Following the success of the much-heralded Nemesis Delay, Source Audio will introduce the dual processor equipped Ventris Reverb at the 2017 Winter NAMM Show. Demos of a beta-version of the pedal will take place in Hall B at Source Audio booth #5498.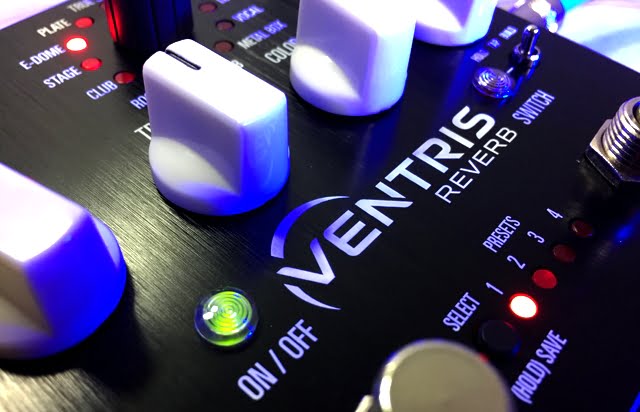 The Ventris is a powerful stereo reverb pedal featuring 24 distinct effect engines ranging from classic Spring, Plate and Room sounds to advanced Shimmer, Swell, Modulation, and Pitch Shifting reverbs. The Nemesis also features dual DSP hardware, eight onboard presets, true spillover, stereo inputs and outputs, soft bypass (or "trails"), a unique hold function, full MIDI control, and deep editing functionality with the Neuro Mobile App (a free download for Android and iOS).

Back in January of 2016 Source Audio released the Nemesis Delay, a seminal super-delay pedal that was instantly embraced by musicians of all kinds and attracted much attention from the major music gear publications. Sound On Sound said the Nemesis "sounds absolutely gorgeous." Premier Guitar gave it their coveted "Premier Gear Award." Guitar Player inducted the pedal into their "Hall of Fame." Fletcher Stewart of Tone Report Weekly called it a "future classic" and honored it with TRW's "Top Tone Award." Armed with many of the powerful features that made the Nemesis so successful and knowledge gained from over a year of intense research, Source Audio has crafted a thoroughly modern reverb pedal with exceptional tone and highly advanced features. "We spent much of 2016 talking with hundreds of music professionals and gear forum enthusiasts," says Source Audio president, Roger Smith. "We asked them, 'what would you put in your dream reverb pedal?' It was that conversation that led us to the conclusion that dual processor architecture was our best path. No other pedal features dual processors, and this gives the Ventris a number powerful advantages – it's like having two high-end reverb pedals in a single unit."

Source Audio's two man engineering team of Bob Chidlaw and Jesse Remignanti took extreme care in crafting the Ventris's exceptionally spacious and natural reverb tones. The pedal features 12 onboard reverb engines with an additional 12 available in the Neuro Mobile App. Effect engines include two flavors of Spring and Plate reverb for remarkably authentic vintage tones. The pedal perfectly captures the ambient reverberations of a wide range of room sizes from the warm and tight Club engine to the vast and cavernous E-Dome. The Ventris also offers a beautiful collection of "unnatural" reverb effects. The Swell engine creates a reverb swell for subtly emerging puffs of sound. Metal Box imagines the sound of your amp blasting in a claustrophobic, steel walled storage container. Shimmer mixes in angelic octave-up reverberations for an atmospheric sheen. Vocal applies detailed filtering to the reverb for a haunting vocal quality.

The Ventris Reverb also features a long list of time-tested control functions as well as some bold new ones. Independent dual DSPs (a completely new feature in the Ventris) give the pedal the ability to perform a number of valuable routing and preset switching options. A standout feature made possible by the dual DSP is "true spillover," which allows users to change from one preset to another without cutting off or shortening the reverb tail in any way. The Ventris also features 8 onboard presets, full MIDI functionality (extending the preset number to 128), stereo inputs and outputs, runaway feedback capabilities, simultaneous expression control of multiple parameters, external preset switching, a "Hold" function that sustains the reverb trail with the pedal's second footswitch, and much more.

Like all pedals in the Source Audio One Series, the Ventris features an intuitive set of controls on the face of the pedal and a much larger set of editing parameters when connected to the Neuro Mobile App. Front panel controls include Pre-Delay, Time (which controls the length of the decay), Mix, and Tone (a high frequency damping filter). The pedal also includes two variable knobs called "Color 1" and "Color 2" that change function depending on the nature of the selected Reverb engine. The Neuro Mobile App offers an additional set of reverb engines and an extended set of deep editing parameters. With the App users can edit highly customized presets then save and share them with other musicians in the Ventris/Neuro Community.
The Ventris is expected to be released in Spring of 2017. Pricing TBA.
More information: Source Audio