Steinberg and Yellowtec have announced their collaboration at the NAB Show in Las Vegas, USA.
Steinberg is providing a bespoke version of WaveLab that is being bundled with the Yellowtec iXm Recording Microphone as well as with PUC2 Mic LEA Audio Interface. Both Yellowtec WaveLab Bundles offer an all-round audio recording and editing package tailored to the needs of journalists today.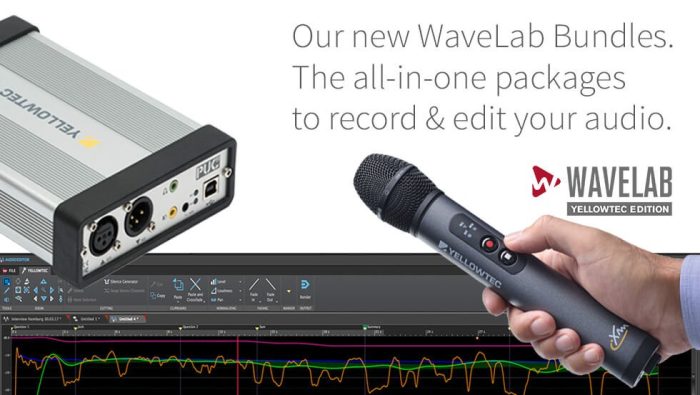 The Yellowtec WaveLab Bundles offer a production environment designed to optimize journalistic workflows. iXm and PUC2 Mic LEA supply automatically leveled recordings while the WaveLab Yellowtec Edition production software delivers enhanced tools for superb editing results.

WaveLab is the go-to audio mastering software for many engineers the world over. Constantly pushing back the boundaries of what is possible, WaveLab includes professional editing and analysis tools and metadata management. The WaveLab Yellowtec Edition provides an easy-to-use interface, with a dedicated Yellowtec feature ribbon that provides quick access to all essential functions.

The first bundle comes with the iXm Recording Microphone that captures best-quality interviews with perfect audio levels right on location. Its interchangeable microphone heads offer different characteristics within one microphone that pertain to specific conditions.

The second bundle includes the PUC2 Mic LEA, a two-channel interface with USB connectivity and headphone/loudspeaker monitoring.

Both the iXM and PUC2 come with onboard LEA DSP Engine for audio processing and level automation.

Senior Marketing Manager Timo Wildehain commented: "Partnering up with Yellowtec is a perfect match. Yellowtec's microphones and audio interfaces, combined with a WaveLab version especially designed for journalists to deliver interviews and recordings with ease and at highest standards, enables an industry-new workflow experience."

"The WaveLab Yellowtec Edition perfectly complements our iXm's and PUC2 Mic LEA's abilities. Taking advantage of the bundle, the user not only enjoys the benefits of optimally leveled recordings, but also the editing options given by the most professional editor on the market," said Yellowtec's Sales Director Andy Mikutta.
The Yellowtec WaveLab Bundles will be available from Yellowtec as of now, with a suggested retail price of 1,095 EUR for the iXm WaveLab Bundle and 854 EUR for the PUC2 Mic LEA WaveLab Bundle, excluding German VAT.