Spectrasonics has announced the availability of USB Drive and Download Editions for all customers of Omnisphere 2, Trilian and Stylus RMX Xpanded.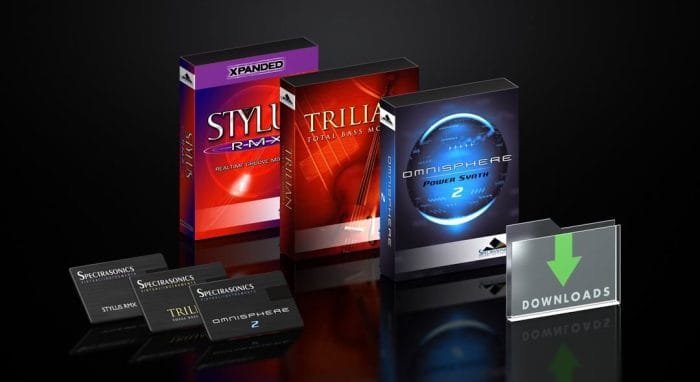 Spectrasonics announced a major change in their delivery platforms and has eliminated all DVD-ROM discs in its virtual instrument product line — replacing them with modern Download and Drive Editions. The company is now using high quality USB drives in their in-store packaging for all three of their award-winning virtual instruments, Omnisphere 2, Trilian and Stylus RMX Xpanded — making physical installation dramatically faster, easier, and more reliable.

The company is also announcing that it is now selling full Download Editions of each of the three instruments, which has been a top customer request. The packaged drive editions are available exclusively through Spectrasonics' worldwide reseller network, while the Download Editions are sold exclusively from Spectrasonics Webstore/Techshop.

Eric Persing, Spectrasonics' Founder and Creative Director, says, "We are extremely pleased to at last offer our whole line of virtual instruments in vastly improved modern platforms that truly match the rest of the premium experience of our award-winning instruments. We happily bid farewell to the era of optical discs and their eternal install times!"
New delivery platforms
USB Drive Editions — The new metal credit-card style USB drives are designed to make installing Spectrasonics products a vastly simplified process. The transfer speed is many-times faster than optical discs as well, saving users hours during the install process. While these non-writeable drives are intended for installation and not for actually streaming the instruments, they are much more reliable than DVD discs. Finally, the wallet-size USB drive can be easily stored for future use when new computer installs are needed.
Download Editions — For customers wanting the convenience of immediate delivery, the Download Edition of Spectrasonics' instruments is an excellent solution. Spectrasonics uses a worldwide network of robust servers to deliver the fastest possible download experience to its customers, regardless of location. Spectrasonics' Download Manager app ensures reliability when downloading such large files.
Support Services — Existing customers who want the same convenience as the new editions can also purchase the new USB drives for the instruments they already own, or for a nominal fee purchase full downloads of their current instruments as an Additional Download for fast and easy installations 24/7 worldwide. These "Support Services" options for existing users are available exclusively in Spectrasonics Webstore/Techshop.
Additional Download Installations are available for $10 USD, and USB Installation Drives for Omnisphere 2, Trilian, and Stylus RMX Xpanded are $49 USD, $39 USD and $29 USD, respectively.
More information: Spectrasonics