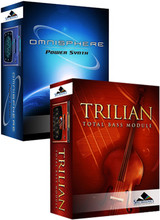 Spectrasonics has announced the forthcoming version 1.3 update for Omnisphere and Trilian, two virtual instrument plug-ins for Windows and Mac.
The new version 1.3 updates offer innovative real-time performance sync capabilities, which allow all three of Spectrasonics virtual instruments to be used together in some unique ways. The new 'Latch' and 'Trigger' modes are ideal for Electronic Music performers since they allow remarkable real-time creation of complex, multi-layered performances with full synchronization between multiple Omnisphere, Trilian and Stylus RMX parts without the need for traditional sequencing techniques. New performance and live remixing techniques are now possible, since any incoming MIDI data to these instruments can now be quantized in real-time – making it very easy to experiment, jam and improvise with any other clocked sources without losing any synchronization.
Changes in Omnisphere/Trilian v1.3
New "Latch" performance features for Live/Stack Mode allows notes from any part to be "frozen".
New Trigger modes allow Omnisphere and Trilian parts to be synchronized and quantized in real-time performance.
New "Sustain2" mode allows for much more realistic Rock-style Bass playing in Trilian and interesting performance possibilities in Omnisphere.
All Envelopes now have Groove Lock feature. Envelopes can be created via MIDI Files.
New Browser 'Search Lock' and 'Search Clear' features improve workflow.
Version 1.3 Sound Library Update:

New Omnisphere and Trilian patches and multis showcasing the new Latch/Trigger features.
New "VIP" Omnisphere Library created exclusively for users who own both Omnisphere and Trilian.
New "produced" Trilian Electric and Acoustic Bass multis designed for cutting through rock and pop mixes.
"Omni Live" iPhone app now with cross-platform support for Windows and Mac OS X.
Updated Reference Guides for Omnisphere and Trilian.
New tutorial videos for Omnisphere and Trilian.
The Omnisphere and Trilian version 1.3 updates will be released on 20 April, 2010, as free downloads for all registered users.
More information: Spectrasonics