Spectrasonics has announced Omnisphere, an epic synthesizer featuring a powerful synthesis engine and a huge library of unique psychoacoustic sounds.
After many years of development, Spectrasonics previewed their brand new flagship virtual instrument Omnisphere® at the Winter NAMM show.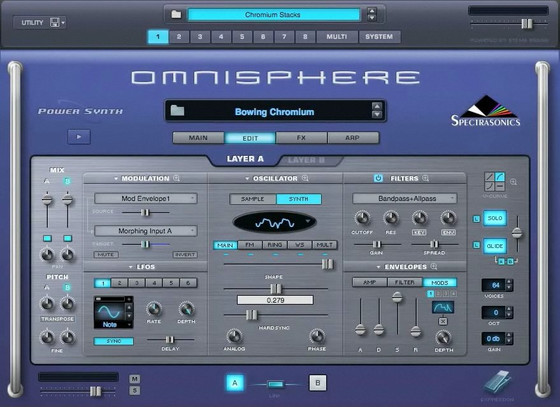 "This is truly an Epic project," said Eric Persing, Founder and Creative Director of Spectrasonics. "We have been working for many, many years; sampling unique sounds, experimenting, specifying the synthesis features and building the STEAM Engine to run it all. It's been a very exciting process involving our team of software engineers, sound designers, musicians, and graphic artists from all over the world. We've been very deliberate in making it easy to use, and yet extremely powerful. Omnisphere is our new flagship synthesizer, and points the way to all our future virtual instruments. We are thrilled to offer a new product that will new have a host of expansion capabilities in the future."
Starting at NAMM and leading up to the release, the Omnisphere development team will be revealing the new instrument to the public through a series of video episodes from the Spectrasonics website showing features and behind the scenes details on how the instrument and its unique sounds have been created.
Omnisphere is set to be released on September 15, 2008, and has an MSRP of $499 USD and 399 EUR.
Visit Spectrasonics for detailed information.