Spectrasonics has announced the release of new Mac and Windows standalone applications of its Keyscape, Omnisphere 2, Trilian and Stylus RMX virtual instruments.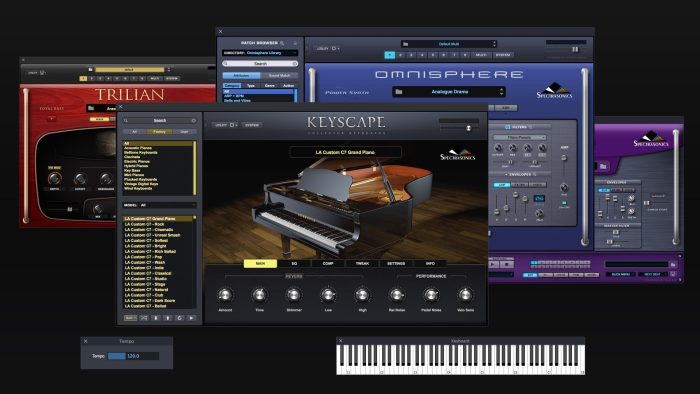 The streamlined new apps enable playing Spectrasonics instruments without using a DAW, providing a simple solution for live musicians looking to switch to a laptop based setup. The design focus of the new standalone apps is on quick access, high performance and outstanding sound quality.
A new remote control loading feature has also been added to the new Omnisphere 2.4 and Keyscape 1.1 updates, which allows any patches or multis to be selected using MIDI Program Changes, CC messages or even by triggering Notes on the keyboard. This new feature makes it easy to create a custom setup for quick patch changes from a controller during a live performance, or from a DAW within a song. This is an especially useful feature for the visually impaired community who can now easily access the sounds via physical buttons and controls.
Omnisphere 2 and Keyscape now also include Spectrasonics brand new "Smart Update" system which makes it much easier to keep a user's collection of Spectrasonics instruments up to date. With these latest versions, clicking the "Get Updates" button in the Splash Pane will take you directly to the new Smart Update page where any updates needed to any instruments and libraries in the customer's User Account will be automatically compiled into a single download. Running one installer will then get your entire Spectrasonics system up to date!
"In Music, sometimes keeping it simple is the most important thing! We are really thrilled to add a long-requested standalone version to each of our plug-ins, and to be able to make these professional instruments accessible to an even wider group of musicians", said Eric Persing, Creative Director of Spectrasonics.

"We are really happy with how easy they are to use, and are especially proud of how they sound!"
Check out the Spectrasonics website for detailed information on what is new in the updates, which are available to all registered users from the Updates area at Spectrasonics.
More information: Spectrasonics