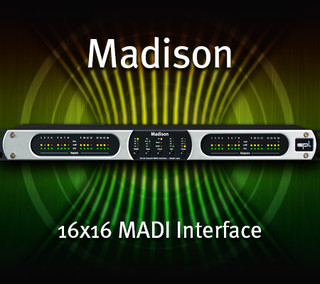 Sound Lab Performance has announced that its Madison 16+16 channel MADI interface is now available.
We had already presented some prototypes at the Musikmesse in Frankfurt, Germany, earlier this year. Now we have concluded all tests and we are utterly convinced that the MADI interface is an extremely reliable, powerful and high-quality solution.

The Madison concept rests on three principles: straightforward operation, flexible expansion capabilities and impeccable sound. Moreover, the Madison ought to set a new price standard in its league: 1.499 Euros MSRP for Germany incl. 19% VAT, 1.214 Euro excl. VAT, 1.899 USD (USA).

We place the Madison in all environments and situations where professional standards are required: from home and project studios to professional recording facilities and orchestra recordings, as well as for mobile and fixed installations.
Madison features
16 AD and 16 DA converters in 1U.
Superb sounding converters with a sophisticated analog section on 36 V audio rails.
+24 dBu professional output level.
Best price/performance value.
Up to 64 I/Os on 1 MADI port (4 units).
Latency-neutral MADI chaining.
44.1 to 192?kHz, ±10% vari-speed.
SPL clock-shop for jitter-free operation.
Ultra-compatible, always operational MADI IO with ultra low conversion latencies.
Four directly selectable reference levels: 15/18/22/24.
Simple operation and setup right from the front panel controls.
Ergonomic, distance-readable meters for clear level status indication of any I/O channel.
Fanless, absolutely silent low-power design (max. 30?W).
Redundant power supply optionally.
Four analog, 8-channel multicore DB 25 sockets (TASCAM industry standard).
Made in Germany.
The Madison is available to purchase for 1.499 EUR RRP Germany (incl. 19% VAT) / $1,899 USD.