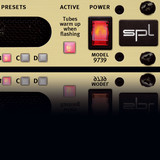 SPL has announced the release of the Analog Code Vitalizer plug-in, a unique and comprehensive tool to add character and life to any music production.
All different models together, the hardware version was sold more than 30.000 times. Now we have transferred this legendary, patented filter technology for sound optimizing to the digital domain. Using the latest component modeling methods, the unique Analog Code sound quality is simply amazing.
Vitalizer Plug-in features
Patented technology for automatic sound optimizing
Very easy to use
Bass, mid and top end processing
Unmasking of overlapping sounds
Adjustable soft and tight low frequency sounds
Ideal sounds patterns for electronic sounds/genres
Mono, stereo or multi-channel operation
Applications:

Suitable for recording, mixing, mastering or playback
Process single tracks, sub groups or sum signals
Add presence and transparency to mixes
Emphasize the sound character of instruments
Create impressive sounding lows
Separate several low signals effortlessly
Increase loudness
Restore old recordings
Give intensity to sound effects (samples)
Improve spatial impression
A demo version of the Vitalizer Plug-in is available for MAC and PC in all main formats (TDM/RTAS/VST/AU). A VENUE version is already available as well.
The Vitalizer Plug-in will be available for purchase on December 7, 2009.
More information: SPL