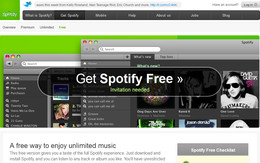 Point Blank is offering rekkerd.org readers the chance to get a Spotify Free download invite.
Spotify, last week, finally got round to opening their services up to our cousins across the pond. Now music lovers across America have the chance to stream full albums for free, download the songs they like and sync their spotify accounts with facebook, twitter and their iPods.

This recent release comes as Spotify passed the 1 million subscriber milestone across Europe and continues to grow both structurally, as well as in its relentless pursuit of pushing legal digital music consumption and accessability forward.

To celebrate Spotify's landmark adventure in to the great American unknown; the guys over at Spotify HQ have offered Point Blank a limited number invitions for users to download the service for free.
Point Blank is offering a Spotify Free invite to the first 10 people who comment on this post.
Many thanks to Point Blank Online!
*Note: make sure to use a valid email address when submitting your comment or you will not be able to receive the invite (no need to actually write the address in the comment).