Stagecraft has launched a sale on three of its plugins, offering a 50% discount on Addiction Synth, Overdrive 5 and Glitch Machine.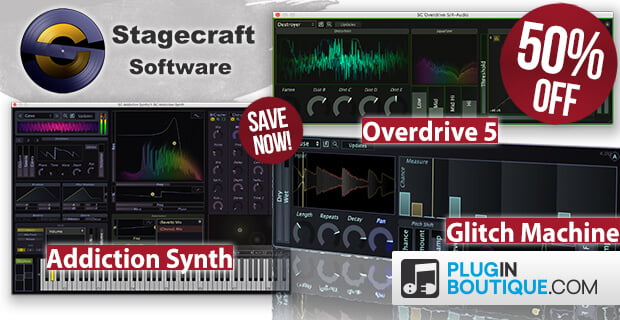 Glitch Machine gives you precise control over the probability that a stutter will occur at any point in the measure. This gives you many options for augmenting your beats; driving straight repeats, heavy offbeats, or more random and messy glitches are all easily available.
The Overdrive 5 plugin offers 5 high quality distortions. Scaling in each distortion gives you a wide range of distortion possibilities, from light sweet distortions to heavy, dark or grungy growl distortions.
Addiction Synth is a professional, versatile, subtractive synthesizer. It can be easily made to sound like anything from a sweet, light organ, to a sharp, funky clav. The synth featres multiple voices, velocity sensitivity, mono/polyphonic switching, versatile LFOs and filter, and effects.
All three plugins (VST/AU/AAX) are on sale for half off at Plugin Boutique until February 26th, 2018.
More information: Stagecraft Software