Steinberg has announced the launch of its Cyber Deals, offering a 50% discount on some of its software for the next few days.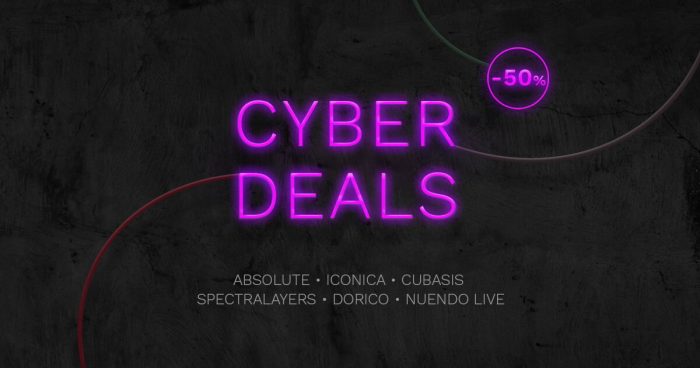 Save a massive 50% on Dorico, Absolute Collection, SpectraLayers, Iconica, Nuendo Live and Cubasis. But hurry — this offer is only valid until December 7, 2020. Just enter the coupon code at checkout or save directly in the App Store or Google Play Store.
The following deals are available (price incl. 21% VAT):
Iconica Opus: 999 EUR.
Iconica Sections & Players: 799 EUR.
Iconica Ensembles: 299 EUR.
Dorico Pro 3.5: 559 EUR.
Dorico Elements 3.5: 99.99 EUR.
Dorico Pro 3.5 update from Dorico Pro 3: 59.99 EUR.
Dorico Pro 3.5 Competitive Crossgrade from Finale (Retail, Academic. Theological), Sibelius (Retail, Professional, Educational, Academic): 279 EUR.
Absolute 4: 499 EUR.
SpectraLayers Pro 7: 299 EUR.
SpectraLayers Elements 7: 79.99 EUR.
Nuendo Live 2: 199 EUR.
The Cubasis app is also available at 50% off from the App Store and Google Play. Use coupon code CYBERDEALS at the checkout to get the discount.
More information: Steinberg