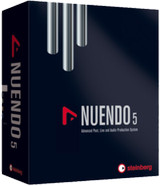 Steinberg has announced it is now shipping Nuendo 5 to its distributors and resellers worldwide.
Steinberg's award-winning advanced post, live and audio production system can be purchased now in our Online Shop and will soon be available at your local dealer.

Nuendo 5 empowers professionals working in audio, live and post production for the film, television and media industry to higher levels of productivity. Post-production editors, film mixers as well as live recording engineers around the world rely on the flexibility and industry openness that Nuendo provides.

Among the new features presented in Nuendo 5 is a new ADR toolset engineered for audio post, providing new capabilities for spotting including advanced take- and marker handling, EDL import, a new video engine and much more.
Nuendo 5 features
Leading native audio post-production environment.
Toolset for ADR work and new native video engine.
Extended project exchange, including support of EDL lists.
Superior editing features and smooth new scrubbing engine.
Unique Nuendo Surround Panner V5 and more new VST3 plug-ins.
Extended automation system with "flexible passes" technology.
World-class mixing and routing features with automatable mix buses.
Completely reworked MediaBay with networking capabilities.
Network collaboration for multi-seat projects via LAN or WAN.
Nuendo 5 for PC and Mac is available to purchase for 1799 EUR.