Steinberg has announce the release of version 1.2 of Dorico, the sixth significant update to the professional music notation application, introducing several new features to make producing beautiful sheet music easier and quicker than ever.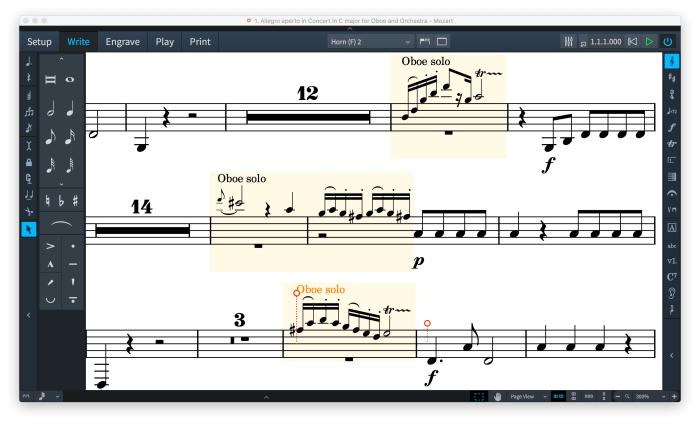 Creating cues in instrumental parts has historically been one of the most time-consuming aspects of part preparation, and Dorico 1.2 introduces a new approach to cues that radically cuts the required time investment. Cues are not only beautifully formatted automatically, and allow users to choose what notations should be shown to the player and which should be excluded from the cue, with automatic choice of clef. Crucially, they are dynamically linked to the source material: any revisions made to the source material are automatically reflected in the cue.
Dorico's unique approach to handling instruments and players has been extended to handle unpitched percussion notation.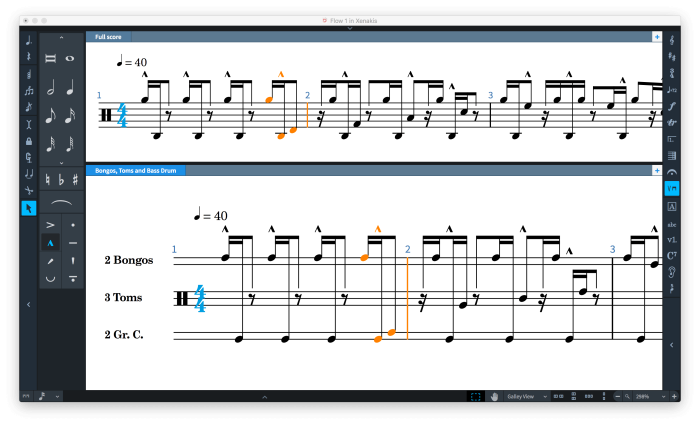 Composers can quickly move individual percussion instruments from one player to another and have the parts update instantly, and show the same source material differently in different layouts. Dorico 1.2 includes comprehensive support for drum set notation, with fast and flexible input both from a MIDI keyboard or using the mouse or computer keyboard.
Dorico is also the first scoring application to support the new Universal Indian Drum Notation for tabla and other Indian drums, developed by Keda Music Ltd. at www.keda.co.uk.
Internationally renowned tabla player and founder of Keda, Kuljit Bhamra MBE, commented,
"We are excited to see the Universal Indian Drum Notation supported by Dorico. The new notation system is designed to allow students, teachers, composers and musicians to play the tabla and enjoy its rich, beautiful sounds. Having it built into a package like Dorico will encourage more people to write for this expressive instrument and share their written pieces with others around the world."
Building on its existing feature set that makes Dorico ideal for handling complex piano, keyboard and organ music, Dorico 1.2 also introduces comprehensive support for fingering. Fingering is quick to input, automatically positioned and includes sophisticated support for fingering substitutions, cautionary fingerings for held notes and more besides. There are features for fingering on brass and string instruments, with special notations for trombone slide positions, horn branches, and shift indicators for moving up and down the fingerboard.
Other new features and capabilities in Dorico 1.2 include:
Change the graphical size of practically any item in the music with new custom scaling properties.
New time-saving tools for building chords via a dedicated popover, allowing you to add octaves, thirds or sixths — or even to produce block voicings — above and below in just a couple of key strokes.
Support for shape note or Sacred Harp notation, with comprehensive support for the four-shape and seven-shape systems widely used in community singing groups in the United States and elsewhere.
Support for Figurenotes© colors (www.figurenotes.org), a system for coloring notes according to pitch that is widely used in education, particularly for students with accessibility or additional support needs.
Many user interface improvements, including more consistent use of user-chosen measurement units throughout the program, print preview improvements, quick hiding of signposts, quick switching between the full score and the appropriate part layout with a single keypress.
Product Marketing Manager for Dorico, Daniel Spreadbury, said:
"We are delighted to be able to put these exciting new tools into the hands of musicians. With the features in Dorico 1.2, we have continued to deliver on our promise to go above and beyond what competing programs can do. Not only are the new features for cues, percussion and fingering highly sophisticated and more capable than anything available in other software, but we have designed them with the musician in mind, so they are quick, easy and efficient to work with."
Dorico 1.2 is available immediately as a free update for existing Dorico users.
Dorico has a suggested retail price of 579 EUR including German VAT. Students and teachers can purchase Dorico at the discounted suggested retail price of 349 EUR including German VAT. Users of Finale and Sibelius can buy a Dorico crossgrade at the special suggested retail price of 299 EUR including German VAT, and a further educational discount is available for students and teachers, allowing them to buy Dorico for 179 EUR including German VAT.