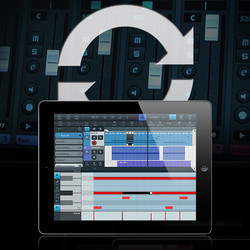 Steinberg has announced the release of version 1.7.2 of its Cubasis multitouch sequencer app for the iPad.
This maintenance update solves many user-reported issues and is highly recommended for all users of Cubasis.
Changes in Cubasis v1.7.2
Audio track playback performance has been drastically increased on all devices.
Audio track freeze.
Setup option to enlarge the audio recording buffer has been added.
New latency setup option added (IO buffer size can be adjusted between 128/256/512).
Maximum polyphony has been increased to a value of 128.
New tracks will now be created below the selected track.
CPU/Polyphony display has been overhauled (please refer to In-App help for more details).
Newly created audio files appear highlighted in the MediaBay.
A new overlay informs about imported files (replacing the previous popup).
Separating files for tracks in mixdown now includes track names for each file.
The touchable area of the preset selection arrows in Micrologue and Micro Sonic has been improved.
Cycle mode is automatically activated when setting the locators to the selection by long tapping an event.
Creating an event by double tapping in the arrange window area now automatically selects the corresponding track.
MIDI tracks assigned to "No Instrument" now display drum pads instead of chord pads as an alternative to the keyboard.
Several minor usability improvements.
Fixed: CB-1308 Disabling solo states restores the states of previously muted tracks.
Fixed: CB-1451 Fixes an issue where glitches occurred when an IAA app was connected during playback.
Fixed: CB-1456 The loading time of Cubasis projects that contain IAA apps has been lowered.
Fixed: CB-1459 Fixes an issue where Inter-App Audio effects were ignored when performing a mixdown.
Fixed: CB-1455 Fixes an issue where a mixdown or freeze of certain Inter-App Audio instrument apps lead to detuned audio material.
Fixed: CB-1448 The iOS keyboard now closes automatically when the help screen is closed.
Fixed: CB-1463 Transferring Mod wheel commands via MIDI out now works as expected.
Fixed: CB-1464 Fixes a rare phenomenon where the preview of audio files (e.g. a mixdown) in the MediaBay played an outdated version of the file.
Fixed: CB-1468 Fixes a rare phenomenon where audio tracks continued to play after the playback had been stopped.
Fixed: CB-1453 Cycle playback on slower devices no longer results in unwanted audible clicks or crackles.
Fixed: CB-1484 Fixes a rare issue where the instrument rack fails to open fully.
Fixed: CB-1486 Fixes a rare issue where loading of duplicated snapshot project files fails.
Fixed: CB-1501 MIDI input for multiple tracks on the same channel now works as expected.
Fixed: CB-1502 AudioCopy of files that are not in 44.1kHz 16-bit format now works as expected.
The Cubasis app is available to purchase for $49.99 USD. The version 1.7.2 update can now be downloaded on the Apple App Store.