Steven Slate has announced the release of the SSD 5.5 drum instrument, an update that adds new kits and samples, including Steven's previously unreleased OG one-shot samples.
SSD 5.5 adds tons of new kits and samples, including Steven's previously unreleased OG one-shot samples that started his career. With over 2,400 MIDI grooves and over 400 instruments, you can quickly get the perfect drum sound and groove.

Now, you even have the option to import 3rd party grooves using the updated Grooves parameters. The new Smart-Velocity Triggering algorithm makes any one-shot sample blend perfectly with the rest of your kit.
Version 5.5 features an updated, resizable GUI that makes customizing your drums easier than ever. You have total control over the dynamics, panning options, and ADSR settings of each instrument.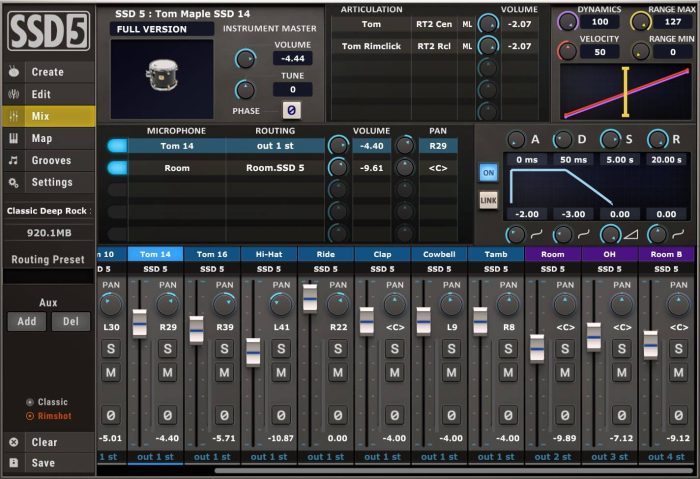 You can effortlessly mix ambient room mics and close mics with custom routing options.
Smarter MIDI Learn & Map features allow you to spend more time playing and less time mapping. The completely redesigned Map section lets you quickly customize your drum MIDI mappings on the fly.
SSD 5.5 features
148 famous artist & legendary modeled drum kit presets.
Over 2,400 midi grooves.
Versatile kits for rock, metal, jazz, funk, indie, reggae, and more.
Lightning-fast midi mapping & learning.
Steven's previously unreleased og one-shot snare samples.
135 snares, 112 kicks, 58 toms.
11 hi-hats, 14 crashes, 6 rides, 4 splashes, 3 chinas.
Ultra-sleek new resizable gui.
New smart-velocity triggering algorithm for one-shots.
Analog processed and raw samples recorded to 2-inch tape.
Import & use 3rd party samples and grooves.
SSD 5.5 is on sale for $99 USD, with the upgrade from SSD 4 Platinum and EX is $49 USD.
A fully-functioning free demo version comes with a Deluxe 2 Kit, as well as a Classic "mix-ready" processed Slate snare, and three unique kit presets including "Deluxe 2 Free", "Hugo", & "Dry n' Tight".
More information: Steven Slate Drums