Dubreq has announced the U.S. availability of the Stylophone GEN X-1 portable analog synthesizer.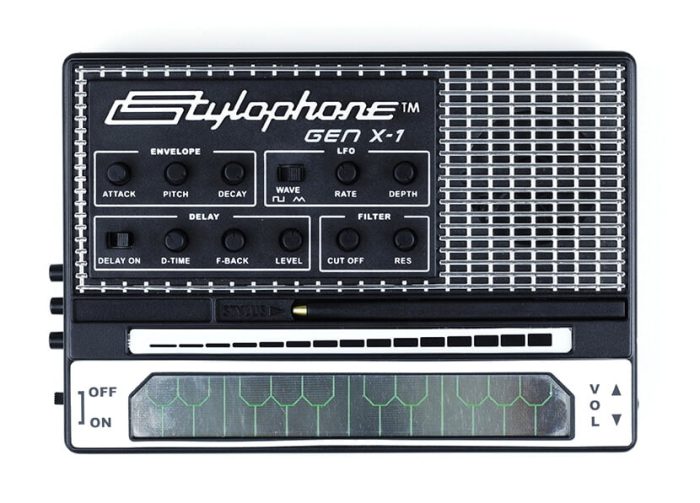 As the newest member of the iconic Stylophone family of products, the new GEN X-1 model allows musicians and non-musicians alike to easily create music – from quirky beats to melodies – and morph each note in a variety of fun and creative ways. It also adds many new features and an updated layout for even more control.
Since the late 1960s, the Stylophone has developed a cult following among hobbyists and pro musicians who are drawn to its unique form, simple interface, and distinct tone. It's been used on classic music tracks such as David Bowie's "Space Oddity," as well as hundreds of other songs over the past five decades.
The newest version, the compact and battery-operated Stylophone GEN X-1, can be used anytime and anywhere for music creation and playback. Its easy-to-use interface encourages sound exploration with a "keyboard-inspired" surface that is played using a stylus, along with a sound strip that can be played with a fingertip.
Additional sound-shaping features can be used to further refine musical creations. They include:
A stylus keyboard and separate sound strip for additional music-making options.
LFO square and triangle waves.
Low pass filter cutoff/resonance.
Sub octaves -1 & -2.
Envelope attack/decay.
Delay time/feedback.
X button pulse width modulation.
A built-in speaker enables users to share their musical creations with others, while a headphone jack allows private practice. In addition, an AUX in can be used to connect the Stylophone GEN X-1 to other sound modules for expanded possibilities.
The Stylophone GEN X-1 is available in the U.S. for $69.99 USD.
More information: Dubreq