SubBass Academy has announced the launch of Making House in Logic Pro X with D.Ramirez, a new course.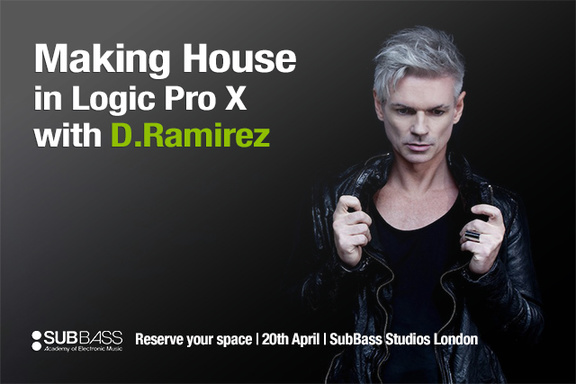 Students will get the chance to spend 4 weeks in the studio with one of dance music's top producers learning all the tricks of the trade.

D.Ramirez is one of dance music's best known electronic music artists, with some massive hits to his name including 'Downpipe' who he produced alongside Mark Knight. D.Ramirez has also released on some of dance musics biggest labels including ToolRoom and Great Stuff to name a few.

This course is for music producers who want to learn how the professionals really get their tracks sounding release ready. You should have a basic knowledge of Logic and music production to take this course or have attended a more basic level course at SubBass. Check our range of Logic courses here.
To mark the launch of this new course SubBass is hosting a free Music Production Masterclass with D.Ramirez on April 21st, 2015. The Masterclass will cover:
Music Production Tips & Tricks
Best Synths to use for making house
How to make a great bassline
Q&A on the industry
Making House in Logic Pro X with D.Ramirez runs on Monday and Tuesday evenings from 6.30 – 10pm. The course is priced at £515 GBP.
More information: SubBass Academy / Making House in Logic Pro X