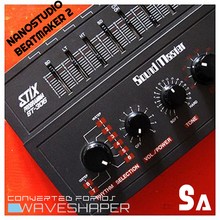 Sunsine Audio has announced the release of STIX 305, the first in a series of "converted" Beatmaker 2 and Nanostudio versions of Waveshaper drum kits and samples.
The SoundMaster Stix 305 is a very rare analogue drum machine from the early eighties. You get both the cheesy, mellow sound of the psychedelic 70s, plus the acid hats of the 80s !

This WaveShaper sample pack is a quite unique occasion to meet this very little known and lovely beat box. Your tracks will get a great retro sound, whether you are an electronic funk producer, and acid freak or a true analogue sound lover.

The Stix305 was recorded using some tube preamp and compressor and a vintage eq on top of it to keep the analogue vibe on the full recording chain. As the Stix305 features few sounds, I recorded them at various compression, gain and eq settings and made several takes of each sound in order to get some subtle variations that your round-robin soft sampler will love for sure! There are also a dozen of loops plus a more punchy kit, processed using some strong tube distortion.
STIX 305 for iOS features
43 One Hit Samples.
3 Kits (Clean, Alt, Distorted).
3 .bmkz files for Beatmaker 2.
3 .trg files for Nanostudio.
13 Bonus loops in .wav format.
Easy Installation Instructions.
Note: Requires Beatmaker 2 or Nanostudio, not included.
The converted STIX 305 pack for iOS (Nanostudio and Beatmaker 2) is available to purchase for $2.90 USD. The original wav sample pack is available from Waveshaper.
More information: Sunsine Audio