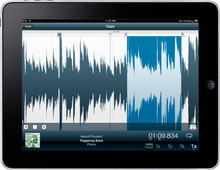 SuperMegaUltraGroovy has released version 1.1 of Capo, an app which allows musicians to choose music from their iTunes library and learn how to play it by ear.
Version 1.1 includes full support for iPad as well as improved graphics for current generation iPhone and iPod touch.
"Since it's release on the iOS platform, musicians can use Capo behind the drum kit, to the piano, into the practice room, and to rehearsal," says Chris Liscio, the company's founder. "With support for the iPad, musicians can learn music on various sized devices to fit their needs – the desktop version in the studio, at home, or in the dorm room, and the mobile version for use on the iPhone, iPod touch, or iPad."

Capo 1.1 allows musicians to slow the music down to a tempo that's comfortable for them to play, change the pitch to match their tuning or range, insert markers, and set loops, helping to quickly learn specific passages or riffs. Capo can load songs directly from the iTunes library or from the currently playing track in the iPod application. The iPad's larger screen makes it easy for two musicians to use the app at one, great for bands as well as teachers and students.

Funk, Jazz, and R&B bass player extraordinaire Rodney "Skeet" Curtis, currently on tour with Maceo Parker said, "With this great app I was finally able to go back and learn some of my old solos," said "Well worth the price if you serious about digging into that solo or riff that you've always wanted to take a crack at."
Capo 1.1 is available to purchase on the iTunes App Store for $19.99 USD. Customers who have bought version 1.0 will get iPad functionality for free.
More information: Capo