Sweetwater Studios, the world-class recording facility owned by music retailer Sweetwater Sound, has announced it will host a three-day, hands-on recording master class this month featuring accomplished musicians Oz Noy, Dave Weckl, James Genus and Brian Charette.
The class will be held between May 24th and May 26th and led by Sweetwater Studios' Senior Producer / Engineer Mark Hornsby.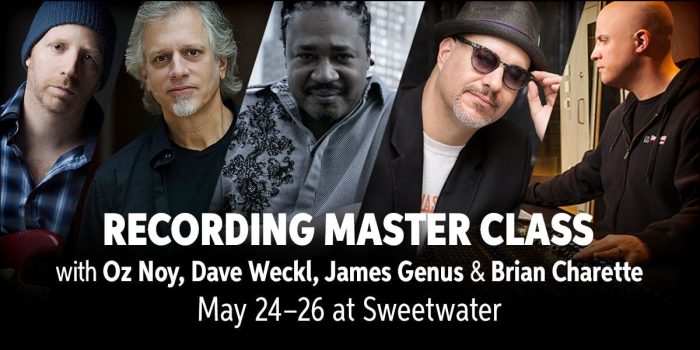 The comprehensive agenda for the in-person sessions to be held in Studio A will focus on three primary elements: Learning Pro Recording Techniques, Recording Overdubs and Editing Tracks and Mixing Tracks. Hornsby, himself veteran producer who has worked with diverse artists including Garth Brooks, Alison Krauss, Robben Ford, Godsmack and many others, will usher students through the entire process — from setting up a session, all the way through to making final tweaks in the mix.
"We are excited to host another one of our Recording Master Classes, which have proven to be a very rewarding experience for both participants and guest artists for the past several years," said Hornsby.

"During these three days, our attendees will experience all the amenities our best-in-class studio has to offer, along with our accomplished and super-enthusiastic guest artist/instructors. Most importantly, they will be able to apply the knowledge gained from this experience to almost any recording setting."
Sweetwater Studios: brimming with talent
During the three-day session, students will be able to work alongside an exquisite cast of talented musicians, including special guest Oz Noy — who blends jazz, funk, rock, blues and R&B into his guitar playing style. Noy has performed, toured and recorded with artists including Gavin DeGraw, Harry Belafonte, Toni Braxton and others, and also recently won Guitar Player magazine's highly selective reader's poll for 'Best Out There Guitar Player."
Drummer Dave Weckl, who will also be joining the sessions, has developed and maintained a reputation as one of the great living drummers. Modern Drummer magazine inducted Weckl into its Hall of Fame in 2000 and named him "one of the 25 best drummers of all time." Meantime, Bassist James Genus, also the bassist for Saturday Night Live, plays both electric and acoustic instruments and has worked with A-list artists such as Herbie Hancock, Whitney Houston and others. On keyboards is Brian Charette — a Grammy-nominated, Hammond-endorsed, Posi-Tone and Steeple Chase recording artist who has been one of the top five organists in the Downbeat Critic's Poll for the last three years and was a Downbeat Rising Star in 2014.
Registration is now available at $1,195 USD per person and includes:
Three full days of learning sessions in Sweetwater Studios, including lunches
Dinner with Mark, Oz, Dave, James and Brian
Lodging for two nights
Certificate of completion
The master class will take place at Sweetwater Studios, 5501 US Highway 30 West, Fort Wayne, IN, from Thursday, May 24th to Saturday, May 26th between 9:00 a.m. and 6:00 p.m.
More information: Sweetwater Studios