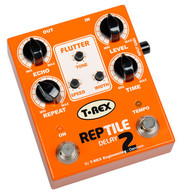 T-Rex Engineering has released the Reptile 2, a versatile delay effect pedal.
The Reptile delay pedal was a milestone in T-Rex history, where we managed to squeeze all the great sound and most of the features of our revered Replica delay into a pedal that any guitarist could afford. Now, we're pleased to bring you Reptile 2 – the next step in the evolution of this sonic savage for guitar and bass.
Reptile 2 features
"Baby brother" sprouts Tap Tempo

– Tap Tempo – or the ability to control the tempo of your delay by tapping a button with your foot while you play – is what separated the men from the boys in our first generation of Replica-family delays. Not anymore. With the Reptile 2, we've brought our renowned Tap Tempo function to the Replica's "baby brother". Tap Tempo gives you ultimate control of your delay on stage, by letting you match the speed of your delay effect to the tempo of your music – without ever missing a beat.

Enhanced Flutter section

– Besides Tap Tempo, Reptile 2 also features an enhanced Flutter section, with a new Tone control. Flutter introduces a touch of random-sounding "warble" to your delay for that great retro tape-effect sound. The Tone control lets you take the top end off your delayed repeats for an even more authentic vintage tone.
More information: T-Rex Engineering