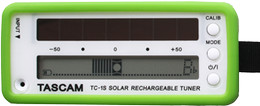 Tascam has announced the TC-1S, the world's first solar-powered instrument tuner.
The TC-1S charges its battery from a bank of solar cells on the front panel, and a USB input is also available for quick-charging when you're completely in the dark. It's wrapped in a shock-proof silicon cover, available in six colors, and a strap and clip keep it charging all day long on your gig bag. At a price under $40, every planet-conscious musician is going to need a TC-1S.

The TC-1S has a built-in microphone as well as a 1/4″ input for guitar and bass tuning. Its lightning-fast pitch detection is displayed on a wide bargraph display for instant feedback. Four display modes are available, including fine pitch display, and the tuner can be calibrated to an external source.
Tascam TC-1S features
Chromatic tuner.
Solar-powered battery charging.
USB input for battery charging.
1/4″ instrument/microphone input.
Built-in microphone.
Custom LCD display with note, sharp/flat indicators, bargraph for pitch deviation.
Shock-resistant silicon case included.
Available in six colors: black, pink, orange, green, blue, white.
Includes strap and clip for attaching to instrument case.
Four display modes: Bar, Fine, Strobe Animation, Needle.
12-note equal temperament scale.
Pitch displayed in 1 cent steps (in fine mode).
3.77″ W x 0.71″ H x 1.57″ D (96mm W x 18mm H x 40mm D).
1.8oz (51g) weight.
The TASCAM TC-1S will be available from select TASCAM retailers in October 2010.