TASCAM has introduced the US-2×2 and US-4×4, two new USB audio/MIDI interfaces that combine great-sounding audio, solid drivers and innovative, functional design.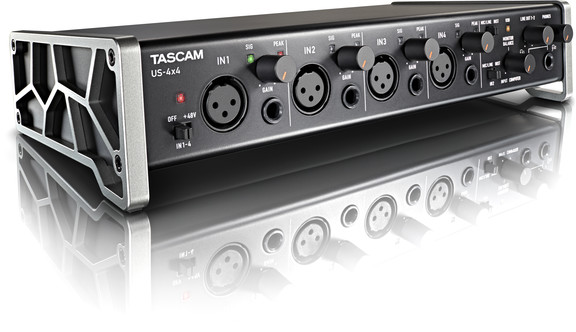 The US-2×2 is a 2-in/2-out USB interface, bus powered from your Mac or Windows computer. A pair of Ultra-HDDA mic preamps provide up to 57dB of gain and the best noise and distortion specs in their class. The audio design features high-performance, musical components like NE5532 op amps for rich sound quality without coloring the source. The US-4×4 adds two more Ultra-HDDA preamps and two more balanced line outputs for a total of four inputs and four outputs.

Both interfaces include class-compliant drivers for use with tablets like the iPad when using a power supply (included with the US-4×4, optional on the US-2×2.) The units require no driver installation on Mac OS X, and all-new high-performance drivers are being written in-house for Windows ASIO use. Each of the interfaces includes MIDI in and out, as well as two DAW applications to choose from – both Cakewalk SONAR X3 LE and Abelton Live Lite 9.

The all-aluminum case was designed by The Box design studio in Germany, and includes a pair of removable "bio-cell" side panels. In addition to their striking design, the side panels angle the interface towards you on a desktop. This angle makes the switches and knobs easier to read without twisting your neck around.

With solid audio specs, iOS compatibility, and an easy-to-read angled design, the US-2×2 is the perfect choice for desktop and mobile studios.
US-2×2 / US-4×4 features
Two (US-2×2) / four (US-4×4) high-quality Ultra-HDDA mic/line preamps with up to 57dB of gain.
Two-in/two-out (US-2×2) / four-in/four-out (US-4×4) USB 2.0 interface with up to 96kHz/24-bit resolution.
XLR/1/4" combination input jacks.
Zero-latency Direct Monitoring.
High-quality audio components like NE5532 op amps for 125dBu EIN and 105dB S/N ratio.
USB Audio Compliant 2.0 drivers for iOS compatibility.
Independent line out and headphone level controls.
MIDI Input and Output.
Aluminum body with angled design for better desktop visibility.
Optional power supply (US-2×2) / Power Supply included (US-4×4, required for use)
Includes SONAR X3 LE and Abelton Live Lite 9.
More information: TASCAM / US-2×2 & US-4×4