TBProAudio has announced the release of AB_LM (AB Loudness Match), a gain control which enables level matched and sample accurate A/B comparison of FX chains.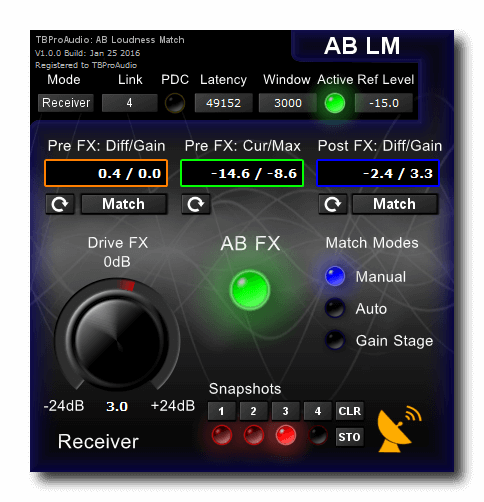 We at TBProAudio found us very often in mixing or mastering situations where we need to quickly identify the contribution of a certain plugin (FX) or even a complex FX chain to the sound.

Most DAWs can easily enable/disable (AB) single plugins or even whole FX chains, but in most case there is an audible loudness difference between both cases. In order to compare the impact of a plugin chain objectively the loudness of the incoming signal should match with the loudness of outgoing signal.

Comparing the plugin effect at equal loudness levels avoids the "louder is better" – pitfall.
AB_LM features
Match pre and post-FX loudness.
Match pre-FX loudness with reference level.
3 loudness match modes: manual, auto and gain stage.
FX chain drive.
Up to 16 sender/receiver pairs.
Automatic latency measurement/compensation.
Adjustable RMS measurement window.
Bypass AB_LM.
4 snapshot slots.
Very CPU friendly.
Large and easy to use GUI.
AB_LM for Windows and Mac (VST/AU/RTAS/AAX) is available for purchase for 49 EUR (excl. VAT).
More information: TBProAudio / AB_LM