TC Electronic has announced that it has recreated its legendary delay rack unit as a plugin with a dedicated hardware interface.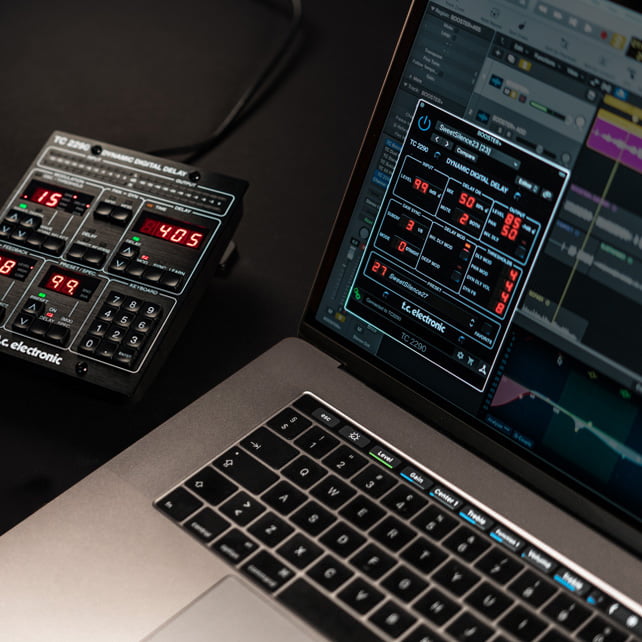 When the original 2290 Digital Delay hit the music world in 1985, it was lauded as nothing short of a revolution in sound.
Adopted by producers and FOH engineers as well as musicians such as David Gilmour, The Edge and Robben Ford, it set the benchmark for delay units, and quickly became an industry standard in professional studios and live effects rigs.
Due to its popularity, it had one of the longest production runs of any rack-mounted processor, and has since its discontinuation in 2005 become highly sought after on the vintage market.
Any creative musician's dream
The new TC2290-DT aims to take up the sonic mantle of the original 2290 while radically reinventing the delay unit for a new generation of musicians, producers and engineers.
"Because we still have the original blueprints, we've been able to rework the 2290 from the ground up," says Thomas Valter, Director of Product Management at TC ELECTRONIC.

"It retains the beautiful and dynamic modulated delays of the original, and fuses the plusses of plug-in technology with all the benefits of having a tactile control unit at your fingertips."
Nailing that unique sound
Over the course of more than a year, TC Electronic had their team of engineers take apart four original units, each with their own distinct character, and measured their components from top to bottom.
By cross referencing the data step-by-step with the original schematics, their software engineers then recreated all the parameters until they achieved the unique 2290 sound.
"We have put a lot of effort into making it authentic in both its tone and controls. It is undoubtedly the ultimate emulation," says Thomas Valter.
TC2290-DT features
Desktop controlled plug-in brings legendary TC2290 dynamic delay to your DAW.
Complete delay solution with extensive modulation capabilities for your favorite audio software.
High-quality tactile interface with authentic "look and feel" of celebrated TC2290 rack delay.
Custom-designed signature presets featuring world-class artists and recording engineers.
High-resolution input/output meters for accurate signal monitoring.
DAW tempo, automation and project recall support.
Award-winning TC ELECTRONIC algorithms for cutting-edge effects.
Powered by USB – ready for Mac and PC.
Standard VST, Audio Units and AAX plug-in processing, compatible with all major DAWs including Pro Tools, Cubase, Nuendo, Logic Pro, GarageBand and Ableton Live.
3-Year Warranty Program.
Designed and engineered in Denmark.
The TC2290-DT will be available in stores in June 2018, priced at $349 USD.
More information: TC Electronic