Terry West has released EasyVox F v1.8, a freeware VST effect plug-in for Windows PC.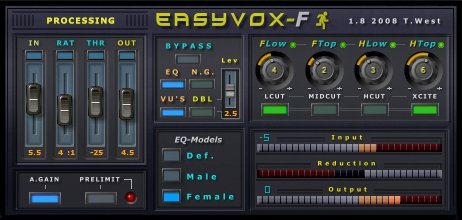 EasyVox F v1.8 features
Dynamic mono vocal compressor/limiter/enhancer.
Four bands "F" equalizer:
Easyfox-F EQ works with the fundamentals of the human voice. The eq-section splits into four controls:

FLow/FTop = Voice Fundamentals.
HLow/HTop = Voice Harmonics.

Autogain and Pre-Limiter.
Auto Noisegate.
Two "F" EQ models.
Independed Low-Mid-Hicut filters.
Harmonic Exciter effect.
Vocal Doubler effect with level control.
Pre in/Post out gain.
In/out/reduction meters + numerical.
Eq activity/auto-bypass leds.
Auto Band-off.
Zero latency.
NOTE: This version is not a update of the standard EasyVox plugin.
EasyVox F v1.8 is available for download now.
Visit Terry West for more freeware VST effect plug-ins for Windows PC.