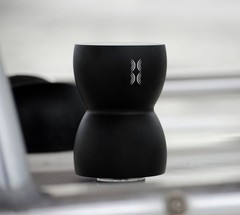 The Bass Egg Project at Kickstarter has launched to make everything in your world a speaker.
The Bass Egg project began over a year ago when one team member was given a reverberation loudspeaker by his father. While the use of this technology in loudspeakers existed, there was much left to be desired. The only products available were either high in sound quality but not portable, or a novelty product encased in cheap plastic – not durable and lacking in sound quality. In addition, no versions were easy to use or appealing in their design.

Driven by the desire to design and manufacture the "best in class" reverberation speaker, our goal was to develop a product with the following attributes: Small and Portable, Sleek, Wireless and Easy to Use, and Durable. Of course, big, Quality Sound was a must.

After many long nights, much frustration and several trips to potential manufacturers – the Bass Egg was hatched.
The Bass Egg Project is looking for backers to pledge $150,000 USD by Friday Dec 14, 2012.
More information: The Bass Egg Project