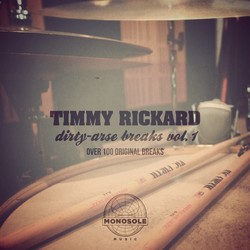 The Drum Broker has launched Dirty Arse Drum Breaks Vol.1, a collection of breaks by Timmy Rickard.
Oh Snap! The Drum Broker is bringing you some Dirty Arse Drum Breaks from Drummer Timmy Rickard & Monosole. If you are looking for original (royalty free) drum breaks, then you need to add Dirty Arse Drum Breaks Vol. 1 to your collection.
Dirty Arse Drum Breaks Vol.1 features
163 Drum Breaks in 24 & 16 bit WAV formats.
Organized by BPM folders (85bpm – 120bpm).
Gear used includes 60's Gretsch round badge kit, various bosphorus cymbals & snare drums, Coles 4038 ribbon mic, API preamp, RME converters, drum sticks.
The sample pack costs $24.99 USD.
More information: The Drum Broker