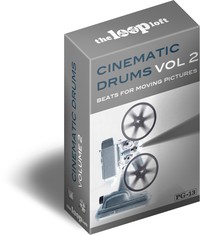 The Loop Loft has released Cinematic Drums Vol 2, a collection of cinematic drum loops.
Volume 2 picks up where our first release left off, taking an even more innovative and sound design-based approach to cinematic drum loops. And "drums" don't even begin to describe the audio contained in this collection. We raided the kitchen and mic'd up sauce pans. We took a van full of bass drums to an airplane hangar. We intimately recorded a rusty hand saw and almost lost a finger. We raided an infant's nursery with a rack full of boutique preamps, capturing the sonic nuances of toys. We pulverized a Coldplay CD with a hammer and several gardening tools. Partly therapeutic, 100% cinematic.

This is the ideal collection for anyone looking for something beyond "traditional" drum loops for their compositions. Forget kick and snare based grooves. Cinematic Drums Volume 2 goes far beyond that, creating an incredibly unique vibe and rhythmic undulation with every individual loop. Film scorers, jingle producers, orchestrators, animators and creative songwriters, take note (and a close listen to the preview). This is the loop release you've been waiting for!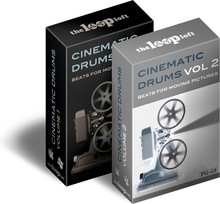 Cinematic Drums Vol 1 and 2 are now also available in the Cinematic Bundle.
If you're looking to load up on Cinematic drums, percussion, sound effects and grooves (and also want to save 25%), then this is the collection for you.

We've bundled both of our popular Cinematic loop releases together, providing you with a vast treasure trove of truly unique and inspiring rhythms and textures. Download the bundle today and add an extra dimension to your next creative composition!
Cinematic Drums Vol 2 is available to purchase for $39 USD. The Cinematic Bundle is $59 USD.
More information: The Loop Loft