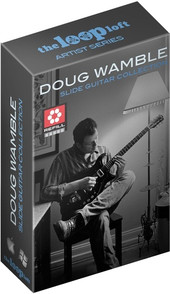 The Loop Loft has released the Doug Wamble Guitar ReFill, a new sample library for Reason 6.
To produce our latest Loop Loft Artist Series ReFill for Reason 6, we enlisted the talent of acclaimed guitarist, Doug Wamble (Wynton Marsalis, Norah Jones, Madeleine Peyroux, Branford Marsalis). Recorded over the course of several days in NYC on Wamble's signature Amistar resonator guitar, this collection of tracks and samples covers a vast range of styles, from traditional Delta blues, to front porch folk, to singer-songwriter strumming, to dirty and distorted rock. The result? One of the most eclectic and inspiring loop libraries we've ever released – The Doug Wamble Slide Guitar ReFill.

With 385 unique guitar loops, The Doug Wamble Slide Guitar Collection is organized into six main sessions (and 53 Dr. Octo Rex Patches), each recorded in a different key and tempo, providing a vast library of both lead and rhythm tracks. To take things a step further, we designed 4 custom Combinators which run Doug's guitar sounds through a vast series of effects including Line 6 PODs, The Echo, Pulveriser and many other devices new to Reason 6.
The Doug Wamble Guitar ReFill is available to purchase for $39 USD.
More information: The Loop Loft