The Loop Loft has introduced Money Beat(s), a Multitrack Drum Session sample pack.
Every successful producer in pop music can agree that the "less is more" approach is a crucial element for making a hit track, especially when it comes to the drums. No 32nd note fills. No five against six polyrhythms. No bullsh*t. Just a rock solid groove that holds down the time, while propelling the song up the charts. AKA: "The Money Beat".

Our 12th Multitrack Drum Session release stays true to this important ethos, serving up big 2 and 4 backbeats, a warm and punchy drum sound and just the right amount of variation, while staying true to the song. If you're looking for jazz fusion jamming that only your musician buddies will tolerate, this isn't the pack for you. If you're looking to craft a hit track with tasteful drums that serve the music, then you've come to the right place. We proudly give you: The Money Beat(s).
The Money Beat(s) sample pack is available to purchase for $15 USD.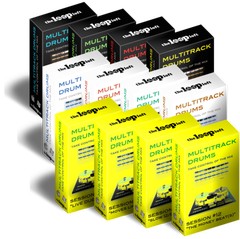 The Loop Loft has also announced the Multitrack Drums Master Bundle, a collection of 12 sample packs.
The Multitrack Drums Master Bundle gives you instant access to every single release in the Multitrack Series (a whopping 7 GB of drums), all at a 40% discount!

With collections ranging from Motown, to dubstep, to jazz, to rock, you'll never be at a loss for quality, multitracked drums again.
More information: The Loop Loft