Three-Body Technology has released version 1.1.0 of Heavier7Strings, offering new features, improvements and bug fixes for the 7-string metal-style virtual guitar instrument plugin for Windows and Mac.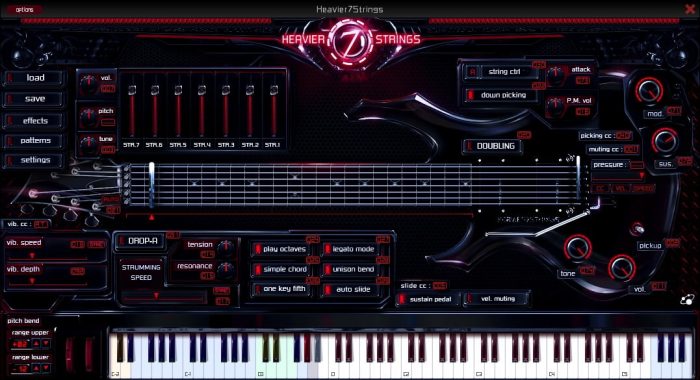 Since the official launch of V1.0, we have received many emails worldwide including some praises and also some suggestions. Therefore, except the original update plan, we have added a large scale of adjustments according to your suggestions.

In fact, V1.1 has been beyond a general small update. But we all believe it is worthy! Only to be a company that respects our users, we could earn users' respect back. Still remaining some requests you asked that we can not realize in our existing framework, but we have recorded them down and will try to realize them in the foreseeable future.

On behalf of Three-Body Technology here, let me take this opportunity to pay tribute and express sincere thanks to all of you. Hope you can enjoy the V1.1 and wish you could keep firm notice on us in order to obtain our latest updates and news on our new products in time.
Changes in Heavier7Strings v1.1.0
Use mouse roll on effect rack. Use ctrl + mouse roll (or command + mouse roll in Mac) to fine tune knobs on effect rack.
Added pitch shift function which allows to generate ultra-low tone.
Added a function that auto changes fret position.
Adjustable right-hand muting pressure.
Two more groups of patterns, one derived from demo songs, and the other group demonstrates the ultra-low tone function.
Increased dry sound volume. Reduced wet sound volume on factory effect presets and patterns.
Refined some samples, especially pitch of string 7.
Optimized and faster resampling.
Refined sample playing logic which greatly improved fast repeating performance.
Refined fret finding strategy.
Fixed a bug that always ask for whether to save effect rack preset.
Fixed bugs in installers.
More realistic velocity effect on tone.
Refined up/down picking on mute playing.
More realistic bending.
More realistic chord playing.
Reduced latency.
Refined chorus generator in THRASH engine.
Refined RR generation.
Adjusted some effect presets.
Heavier7String for Windows and Mac (VST/AU/AAX) is on sale for $199 USD for a limited time (regular $249 USD).
More information: Three-Body Technology