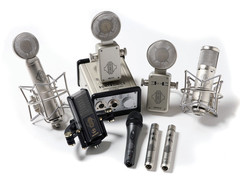 Time+Space has announced it will be distributing the products of British microphone brand Sontronics.
Sontronics was launched at the 2005 NAMM Show and in the past four years has grown from strength to strength. All Sontronics microphones, accessories and preamps are designed and developed in the UK, and represent the very best in professional audio technology and high-quality engineering combined with excellent value for money.

The range continues to expand, with the release of the MATRIX-10 microphone stand and the 100% European-made CHIMERA and SONORA preamps in 2008, plus the brand new DELTA live ribbon microphone in 2009, with yet more top-quality products in the pipeline for this year and beyond.
It's no wonder that the brand is already a favourite with musicians, engineers and producers around the world.
Visit the Sontronics product page for an overview of microphones currently available from Time+Space.