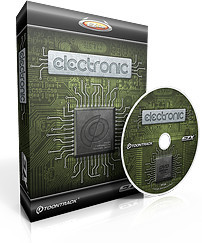 Time+Space has announced a special offer on the forthcoming Toontrack Electronic EZX.
Over the past decade, the team at Toontrack Music has generated over 1,000,000 sound files from recordings of hundreds of the finest drums and cymbals. Until now, it's been 100% acoustic…

Due for release later this month, the eagerly awaited Electronic EZX delivers a distinctive collection of classic, circuit bent and resampled electronic drum sounds.

Pristine classics, otherworldly one of a kind bends, and gritty essentials make this the hottest collection of electronic drums imaginable.

The Electronic EZX is simply a must-have for EZdrummer and Superior Drummer 2.0 users and anyone who orders it between 1st – 30th November 2009 can claim any other EZX expansion pack completely free!
Simply purchase Electronic EZX as normal either through Time+Space or a participating dealer and then send proof of purchase with the rebate form (downloadable from timespace.com/toontrack) to Time+Space and they'll send the free EZX direct to you at no extra charge.
The free EZX can be any of the following titles:
EZX – Claustrophobic
EZX – Drumkit From Hell
EZX – Latin Percussion
EZX – Nashville
EZX – Twisted Kit
EZX – Vintage Rock
EZX – Funkmasters
EZX – Jazz
More information: Time+Space