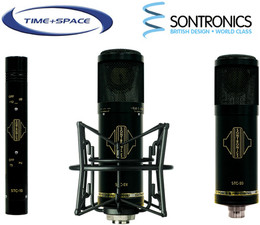 Time+Space has announced it is now shipping new microphones by British microphone brand Sontronics.
Inspired by their bestselling STC-1 and STC-2, Sontronics have released three new microphones designed for the most affordable end of the market.
New Sontronics microphones
STC-10 is a pencil-style cardioid condenser microphone which is ideal for spot miking applications particularly proving a winner when used on drums, percussion and acoustic instruments. The STC-10 has also proved useful in film production work when used on a boom. Although the STC-10 has been designed with affordability in mind, it still features a built-in attentuation switch (choose 0dB or -10dB) and a low-cut filter (75Hz) to make it extremely flexible in all situations. The STC-10 is supplied with a simple mic clip and a foam windshield to prevent sibilance. RRP: £89 GBP / €109 EUR.
STC-20 is a large-diaphragm condenser mic with a cardioid condenser pattern and featuring the same one-inch, gold-sputtered capsule as found in STC-2, housed within a large open grille. Despite its incredible affordability, the STC-20 delivers brilliant results in most studio applications, particularly on male and female vocals, speech and voiceover, broadcast and acoustic guitars. Sontronics' spider-style shockmount (in black) and aluminium flightcase will be available to purchase separately. RRP: £129 GBP / €155 EUR.
STC-2X is a large diaphragm omni/cardioid condenser mic featuring a one-inch gold-sputtered capsule within the large open grille and boasts a switch on the back to flick between cardioid and omni-directional patterns. STC-2X features a two-stage attenuation switch (-10dB and -20dB) and a two-stage low-cut filter (75Hz and 150Hz). STC-2X performs excellently in a wide range of recording situations, particularly male and female vocals, speech/voiceover, acoustic guitar and acoustic instruments. Thanks to its omnidirectional option, the STC-2X is also a great mic for interviews, podcasts and round-table conference situations. Available in black or silver, the mic is supplied in a rugged aluminium flightcase with a co-ordinated spider-style shockmount. RRP: £239 GBP / €275 EUR.
As well as the new microphones, Sontronics also released a new accessory, the ST-PAD/PHASE.
Developed in response to many users asking us how to handle signal overload, particularly in relation to ribbon mics when miking very loud sound sources, the ST-PAD/PHASE provides attenuation via two switchable -10dB stages, providing you with ample assistance to tame powerful audio signals.

The product also features a -180° phase inversion switch which can be very helpful when microphones are placed in close proximity to the sound source and phase-correlation is a problem. A common example is when miking the top and bottom of a snare drum – simply plug in ST-PAD/PHASE to one of the mics and invert the phase for fantastic, phase-accurate results
The Sontronics ST-PAD/PHASE is available to purchase for an RRP of £39 GBP / €49 EUR.
More information: Time+Space