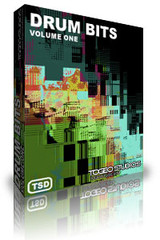 Togeo Studios has announced the release of Drum Bits, a collection of electronic drum racks for Ableton Live.
Togeo Studios Drum Bits are primarily designed for use in electronic music. More than just standard drum kits Drum Bits has many fx hits, stabs, synth and bass samples integrated making them especially useful in minimal techno, house and experimental IDM genres of music.
Drum Bits features
133 electronic drum racks based on over 300, 24bit drum samples.
Each 16 pad drum kit is divided into 4 drum groups with seperate macro controls for the pitch and decay of each group.
Special effect macros include controls for reverb, chorus, phaser, ping pong delays and an adjustable randomiser to add a human feel to the beat. Also included is the Togeo Studios special pattern changer midi effect. The pattern changer macro allows for 16 variations of any single midi clip you trigger giving a wide variety of interesting new drum beats and instant fills.
Large selection of multi-chain racks with up to 4 kits which produce layered, morphing sounds for even more variety and control within your drum sessions. Switching between the different sounds and layers is easily controled by a single morph kit macro. By adjusting each of the layered kits group pitch and decay settings you can come up with an infinite set of new variations.
36 live sets containing 187 drum clips which can be dragged into a session. Each set is a single track with one drum rack and several midi drum clips.
Drum Bits for Ableton Live 7 or higher is available to purchase for 10 EUR. A free Drum Bits demo pack is available to download from the product page. The pack contains an Ableton Live set with 1 Drum Bits kit rack and several midi clips.
More information: Togeo Studios