Tone2 Audio has announced the forthcoming release of its Icarus 3D wavetable synthesizer instrument for Windows and Mac.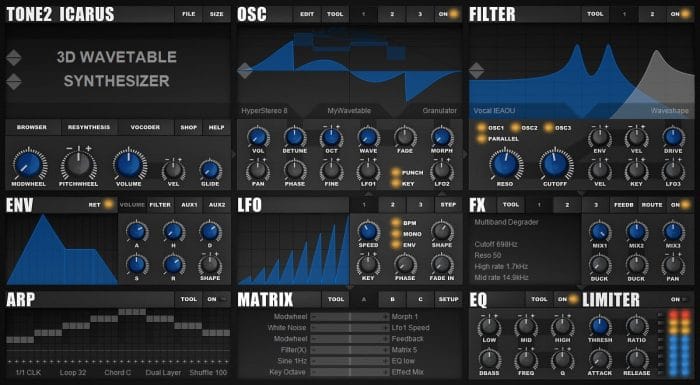 Icarus is a exceptionally powerful, new synthesizer with '3D wavetable synthesis'. It offers a fresh signature sound, which quickly catches your audiences' attention. The easy to use interface and a massive amount of inspiring factory sounds allow you to create professional tracks rapidly and with very low effort.

Icarus is a '3D wavetable synth', because we extended the popular traditional wavetable synthesis, which allows to cross-blend waveforms, with an additional dimension for morphing. This is one of the secrets why Icarus can create very special sounds with lots of dynamic expression and movement. Most of these unique sounds are hard, or impossible to create with other synthesizers.
Icarus offers the power of hardware and the flexibility of software. It offers a huge sonic range and is extremely versatile, but still remains very easy to use. The exceptionally powerful audio engine is able to reproduce all important synthesizer sounds.
This synthesizer can do: All classic synthesis methods, 3D wavetables, morphing, resynthesis of samples…
It has: 53 effects, 3×10 stereo oscillators with hypersaw, dual stereo filters with 62 filter types and distortion, an arpeggiator, a vocoder, a wavetable editor…
Icarus features
3D wavetable synthesizer: Wavetables can be morphed in several dimensions.
Powerful and flexible sound engine with true stereo architecture.
High-end sound quality with low CPU requirement.
Easy to use interface with direct visual feedback makes tweaking accessible to everyone.
Huge sonic range.
Unique signature sound: Lots of exclusive sounds which are not possible with other synthesizers.
Perfect for modern, as well as all other music styles.
Over 1000 sounds by professional designers.
Patch browser and flexible preset management.
New resynthesis method, which is easy to use and quickly gives good results.
Modular effect section with 53 effects.
High quality vocoder with 1024 bands.
3 oscillator blocks, each offering up to 10 stereo oscillators, which can play hypersaws, unison, stacks or chords.
Wavetables can be morphed with 54 different modes (FM, PWM, formant, phase distort, sync, …).
All morph modes can be combined with any kind of wavetable or hypersaw.
Wavetable editor with many features.
A wavetable generator can create completely new wavetables.
Waveforms can be painted using the mouse.
Additive spectrum editor.
Import and export of wavetables/waveforms from other synthesizers.
Dual multi-mode filter section with 62 filter types and 9 distortion types.
Programmable arpeggiator with advanced features like chords, glides, swing & shuffle.
Fast and punchy envelopes.
LFOs with audio-rate modulation speed and BPM sync.
Flexible mod matrix.
Midi learn support.
Dynamic microtuning to enhance chords.
Customizable user interface with 40 colors schemes.
Expandability.
Icarus for Windows and Mac (VST/AU) will be available Summer 2016, priced at 149 EUR / $199 USD.