Tone2 Audio has announced the release of an update to the Windows version of its Electra2 synthesizer workstation instrument.to v2.7.5.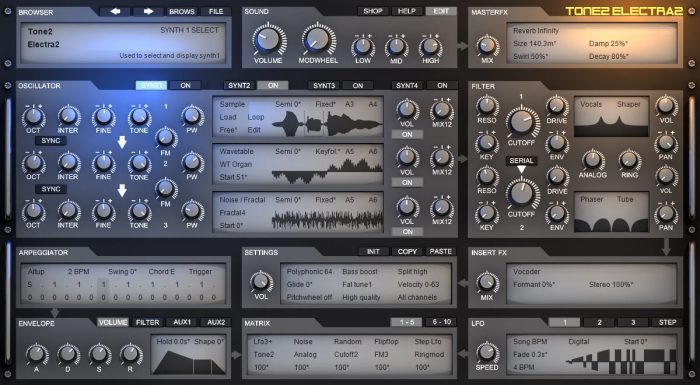 This update comes with a completely new standalone-version for PC. It also fixes some problems on PC.

The update to v2.7.5 is available for free and is downward compatible with all previous versions. All existing song projects and patches can be loaded without any further steps necessary.
Changes in Electra 2.7.5
New features (standalone-version for PC):

Added a recorder that can export your jam-session to a wav-file.
The BPM-rate can be changed.
Added a soft-clipping-algorithm with low harmonic distortion.
The current patch can be saved on exit and is reloaded automatically on start.
MME-driver support.
Midi-through support with output-routing.
Added Midi-velocity-curves with multipoint-splines.
Optional Midi-transposition with up to +-48 semitones.
Optional Midi-channel-filtering.
The current BPM-rate, CPU-load and volume is shown on the top-panel.
Tooltips are shown on the top-panel.

Enhancements (standalone-version for PC):

Lower latencies for the soundcard drivers.
More responsive GUI with 120 Hz refresh-rate for smooth knob movements.

Fixes (PC-version):

Electra sometimes did not output sound after loading a project in Cubase. It could occur if a patch with mono/legato was used.
The link to the manual in the start-menu did not work.
Electra2 is available for 149 EUR / $179 USD. It comes in VST and AU plugin formats. A free demo version can be download from the website.
More information: Tone2 Audiosoftware