Tone2 has released an update for its Gladiator synthesizer instrument plugin.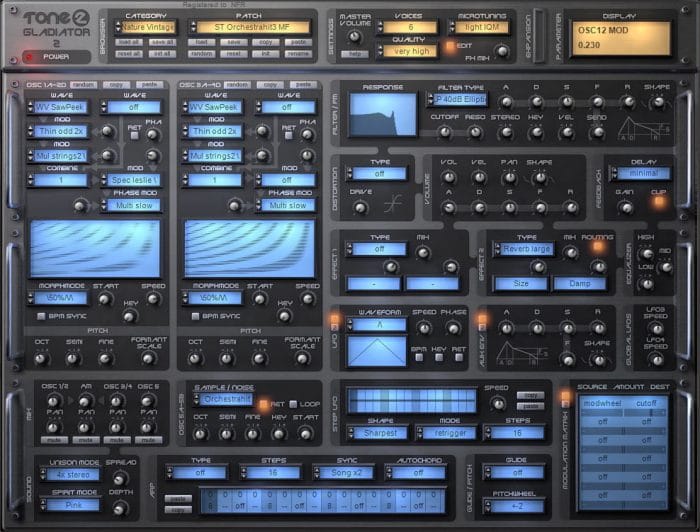 The award winning Gladiator gives you a groundbreaking approach to sound generation. Its exclusive HCM™ synthesis technique, covers new and unique aural territory, only possible with Gladiator. The innovative synthesis, design and unmatched sound quality, make this not only the perfect instrument, but also the best virtual synthesizer and go-to instrument for all those looking for the ultimate creative tool.

Gladiator 2.6 is 100% downward compatible with the previous version. All existing song projects and patches can be loaded without any further steps necessary. They will benefit from the enhanced sound quality.
Changes in Gladiator v2.6
Drastically enhanced sound quality, especially if you run the plugin in 44khz.
More clean and detailed overall sound.
Enhanced sound of the filters: More linear frequency response for high cutoffs.
Enhanced sound of the effects section: Higher precesion interpolation.
Enhanced sound of the distortion: Added oversampling for more crisp sound.
Enhanced sound of the osciallors: Higher precesion interpolation.
Added a high-end resampling algorithm.
More linear frequency response, especially above 10 kHz.
More tight timing.
Enhanced stability.
More intuitive parameter names for automation.
More beautiful ligths for the buttons.
Fixed a possible pop sound on opening the plugin.
More robustness.
Less aggressive psychoacoustic processing.
Workaround for a host bug in Orion 8.6.
In the Mac version patches can now be renamed from within the plugin (if the host supports it).
Several other minor fixes.
Gladiator 2 for Windows and Mac (VST/AU) is available for purchase for 149 EUR incl. VAT. The update and a free for all Gladiator 2 users.
More information: Tone2 Audiosoftware / Gladiator