ToneBoosters has launched the TB BusTools 3 bundle, comprising 10 acclaimed, pro-level plugins that help you craft professionally-souding mixes.
The plug-ins in this bundle were designed without compromise, intended to provide the maximum possible quality, creative effect, control and transparency over your audio assets.

Included plug-ins cover temporal-spectral sculpting tools (a dynamic equalizer, matched-filter de-esser), dynamics processing (bus compressor and true-peak limiter), and ITU and EBU compliant loudness management tools. To top it off, a painstakingly-accurate tape simulator (ReelBus) is included!
BusTools 3 features
10 pro-quality plug-ins bundle.
Pro limiter and bus compressor.
Accurate tape simulator.
Ultra-transparent de-esser.
Binaural room simulator.
Loudness and true-peak meter.
Easy to use interface.
VST and AU format.
32-192 kHz sample rate.
Mono and stereo compatibility.
The bundle comprises Barricade 3, BusCompressor 3, Dither 3, EBULoudness 3, Evoke 3, FlX 3, Isone 3, ReelBus 3, Sibalance 3, and VoicePitcher 3.
BusTools 3 is available for 40 EUR. Customers who already purchased one or more license(s) of any of the included plugin(s), can get a 50% discounted upgrade.
ToneBoosters has also released version 1.0.5 of its Plug-in installer, offering some fixes and improvements for Barricade, Morphit and Reverb.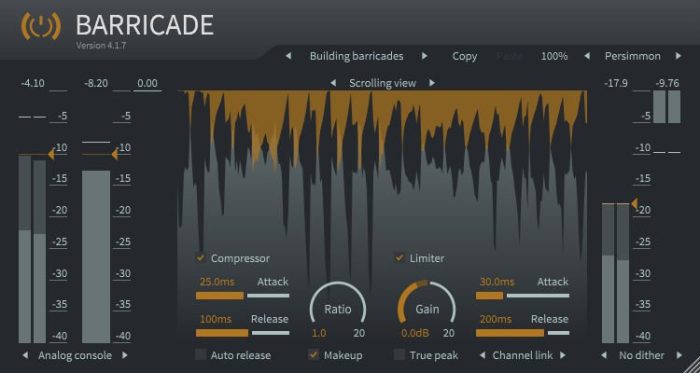 We've had many requests for additional headphones in Morphit, and hence we've added 10 more profiles! Furthermore, we've extended Reverb 4 with multi-channel capabilities.
Changes in Barricade v4.1.8
Minor fixes and stability improvements.
Changes in Morphit 1.2.2
Minor fixes and stability improvements.
New headphone profiles: Audiotechnica ATH M20x, Beyerdynamic DT150, Philips SHP9500, Panasonic RPHC200, Panasonic RPHC800, Sennheiser HD599, Sony MDR1000x, Beats Executive, Beats urBeats.

Changes in Reverb v4.0.4
Minor fixes and stability improvements.
Added 5.1 channel support (VST3 and AU only; channel order must be L, R, C, Lfe, Ls, Rs).
More information: ToneBoosters