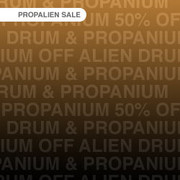 Tonehammer has announced a PropAlien Sale, a limited time offer for Alien Drum (aka Hang Drum) and Propanium (aka Milltone).
Tonehammers Alien Drum and Propanium are two of the most sophisticated and emotionally sound percussion instruments in existence. The Alien Drum is essentially a modified type of steel drum, but with a much more delicate and melancholic sound unlike the steel drum. The Propanium is made out of modified propane tanks, which were then carved in tongues like slit drums. The propanium has a very beautiful, sad and dark sound to it – and truly sets a milestone in what tuned percussion can sound like.

The libraries are build around our 10/10 standard (10 velocity layers – 10 repetition pr. layer), which allow you to play the percussion at extreme speeds without getting that repetitive machine gun feeling going. The libraries have up to 40 velocity layers, so you can truly express yourself.
The Alien Drum and Propanium bundle is available at a 50% discount on December 10, 2009 only, priced at $59 USD.
More information: Tonehammer