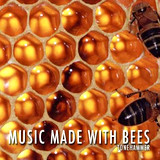 Tonehammer has announced Music Made with Bees, an experimental project featuring the sound of bees.
Tonehammer is not just about fancy sampling, but we also find pleasure in cross-pollinating new elements and creating fresh audio honey. This time around we wanted to explore the concept of bees. The bee produces about 200-230 wing flaps pr. second, which is enough to generate a nice, rich sounding buzz.

We recorded a bunch of bee sounds and manipulated them through a variety of tools (including timefreezers, delays, filters, glitch modules etc). We then decided to add some more human elements to it (vocals, guitars, grooves etc) and wrapped it up by adding full symphony orchestra and choirs on it during the end.
A Free Bee sample pack is available as a free download (contains Kontakt files and raw .wav files).
More information: Tonehammer