Plugin Boutique is offering a 65% discount on the Jazz Ballads EZkeys MIDI collection by Toontrack for 24 hours only.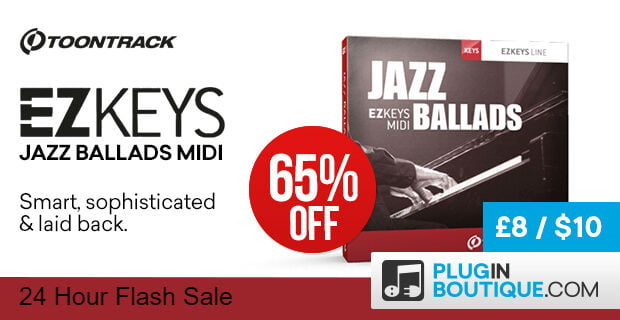 Jazz Ballads EZkeys MIDI comes with a wide selection of playing styles for all the creative facets of jazz ballads through the ages. From the traditional melodic sophistication of the "Jazz Age" in the early 1900s to the cool and saturated harmonics of the post-war times, leading up to the free spirit of avant-garde and all the way to the many faces of more modern-day jazz.

This collection of piano MIDI truly is a creative tool and a comprehensive introduction to the awe-inspiring tonalities of the genre. See it as a toe-hold for you to stand on before you throw yourself into the unending well of inspiration to make your very own rendition of what a jazz ballad is, to you.
The MIDI pack is on sale for only $10 USD through December 19th, 2018.
More information: Toontrack