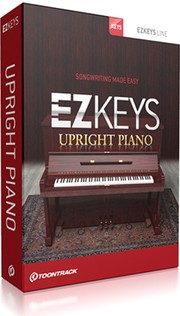 Toontrack has announced the release of EZkeyz Upright Piano, a new sound library for EZkeys, featuring the sounds of a carefully sampled Östlind & Almquist piano.
After the overwhelmingly successful launch of our revolutionary songwriting tool and software piano EZkeys, we are happy to announce the next step in the evolution! Please welcome, EZkeys Upright Piano as well as a 1.1 software update introducing a host of new features!

Grand, Upright or Both? There are two individual versions of EZkeys: Grand Piano and Upright Piano. Both products feature the same software, functionality and MIDI – the difference lies solely in the sounds. An owner of either product can buy the other at a discounted price!
EZkeyz Upright Piano features
A carefully sampled Östlind & Almquist upright piano.
Recorded at Studio 9, Sveriges Radio, Sweden using only the best of the best in modern and vintage equipment.
All sounds are designed to be mix-ready. Just pick a preset and the sound will sit right in your mix!
Uncompromising dynamic response for great playability.
Includes Sympathetic Resonance based on real samples.
Due to Toontrack's proprietary loss-less compression algorithm TPC, EZkeys Upright Piano is extremely low on system resources and only needs 500 MB of RAM. Normal loading time from launch to ready-to-play is less than ten seconds.
Toontrack has also updated EZkeyz, introducing several new features and improvements. Version 1.1 is a recommended update for all EZkeyz users and is required for the Upright Piano to operate.
Changes in EZkeyz v1.1
Drag and drop single chords directly from the Chord Selector to the timeline or to the favorites section.
The user can now let EZkeys 'humanize' any pre-quantized MIDI upon import.
Use your own chord progression and transform it with playing styles found in other MIDI files.
Added support for smooth scrolling on Mac with trackpads and similar.
Record MIDI directly to the timeline in EZkeys. Add your own melody to an existing chord progression!
Alter the voicing of a chord on the fly by clicking the – or + buttons.
Paste Chords, MIDI or both! It is now possible to choose if you want to paste only the chord progression, only the MIDI or both.
EZkeys is run in DEMO mode until authorized (no demo version).
Export songs or files as wave files straight from the EZkeys interface.
The EZkeyz Upright Piano is available to purchase for 139 EUR. The upgrade expansion from EZkeyz Grand Piano is 69 EUR.
More information: Toontrack / EZkeyz Upright Piano