Toontrack Music has released EZplayer pro, a multi track MIDI organizer, arranger and format conversion tool between mapping formats that allows you to gather all your MIDI clips in one browser.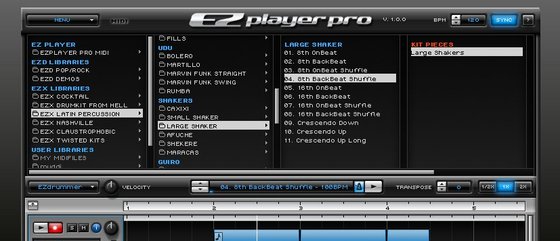 From the announcement:
The new multi track MIDI clip arranger offers time stretching, editing and multi layer arranging of MIDI files. EZplayer pro also has hardware learn features enabling live triggering of MIDI arrangements. The MIDI content in EZplayer pro is recorded by drummers David "Fingers" Haynes and Per Mikaelsson.
EZplayer pro features
MIDI engine available as a plug-in from your host that lets you organize and preview all the MIDI on your hard drive with the sampler of your choice.
Imports your MIDI libraries by using the Add Path menu in the EZplayer pro interface or by dragging the folders into the EZplayer pro window.
Multi track arranging capabilities. Sequence, edit and fuse your MIDI into new arrangements to save back into the EZplayer pro or to drag and drop into your host for use in new compositions.
Works with all major host applications on the market but also with Toontrack solo (Toontracks own host application, free for all registered users of Toontrack samplers, version 1.1 required). See compatibility list for details.
Supports any GM compliant software and hardware samplers as well as virtually all leading drum samplers on the market (including Toontrack EZdrummer and Superior lines of course). See compatibility list for details.
Supports all common time signatures internally in addition to syncing to host tempo and signature.
Split percussive MIDI files into kit pieces. Combine instrument kit pieces from one file with instruments from another to create new beats.
Time stretch separate MIDI clips or kit pieces patterns and add accented cues to your beats with the accent tool.
Adjust velocity, lengths or transpose single clips or entire tracks to create more dynamics in your grooves.
Translate MIDI content between all common drum sampler formats on the market.
Control and trigger sequences live with the MIDI hardware learn functions.
Record and fuse multi part arrangements into single MIDI file clips.
Search and buy MIDI content on the internet from the third party content providers listed in the interface.
Stand alone workstation for creating MIDI beats when used in conjunction with Toontrack solo and EZdrummer or Superior Drummer, the award winning samplers from Toontrack.
MIDI content played by David "Fingers" Haynes and Per Mikaelsson (Claustrophobic EZX) included.
EZplayer pro is part of the Toontrack Software Tools line and works as a Universal Binary compatible plugin in RTAS, VST and AU formats.
EZplayer pro is available now for $49 USD / 39 EUR.
Visit Toontrack Music for more information.