Toontrack has announced the release of AOR EZkeys MIDI and AOR Grooves, two new MIDI titles.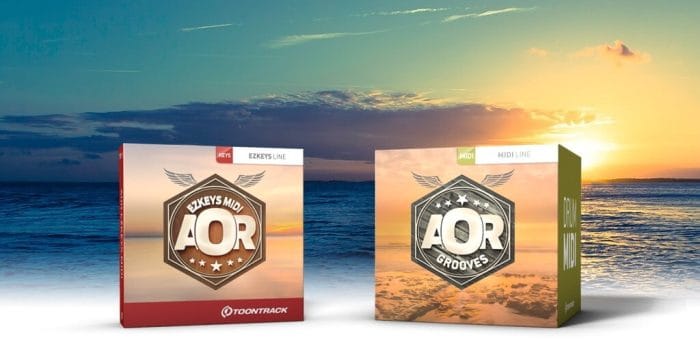 The EZkeys title features playing variations for Toontrack's widely popular piano/keyboard software EZkeys while the other title comes with drum MIDI grooves for use with EZdrummer 2 or Superior Drummer 2.
AOR Grooves — This collection of EZkeys MIDI playing variations has a strong foothold in classic rock, but with that "session musician" quality that often signifies the genre. Expect sturdy, timeless grooves with edge, nuance and finesse. This MIDI pack gives you the perfect foundation to any rock track where you want the drums to have attitude – without being overpowering.
AOR Grooves features
Drum MIDI grooves/fills inspired by AOR music.
Played by session drummer Norman Garschke.
More than 300 individually played files.
4/4 and 6/8 in straight and/or swing feel.
Tempos ranging from 71 to 160 BPM.
Song structure categorization (intro, verse, chorus, bridge, etc).
AOR EZkeys MIDI — With the slick, keys and vocal-driven AOR sound as a starting point, we travelled back to its heydays and worked our way through the massive vaults of inspiration. We ended up with a comprehensive collection of playing variations ranging all the way from big ballads and syncopated shuffles to beat-driven uptempo material. Expect creative chord-runs, twists, turns and a world-class player behind the wheel – all the signifying traits of AOR as we know it. Start writing!
AOR EZkeys MIDI features
Piano/keyboard MIDI inspired by AOR music.
Performed by professional session player.
4/4, 6/8 and 12/8 variations in straight and/or swing feel.
Intro, verse, pre-chorus, chorus and bridge sections.
The MIDI packs are available for purchase for 25 EUR each.
More information: Toontrack