Toontrack has announced the release of EZkeyz Mellotoon, a virtual Mellotron instrument for Windows and Mac.
EZkeys Mellotoon is based on the classic Mellotron keyboard introduced in the early 1960s. This unique instrument was the first of its kind to include samples of real instruments, but as opposed to the modern-day digital sampler, the Mellotron pulled them off a magnetic tape loop that ran inside the keyboard. It came with various sounds for piano, strings, flutes, brass and is likely best described as the first-ever "band in a box". Naturally, it was a revelation from the get-go. Early adopters included the Beatles, the Moody Blues and King Crimson, who all immortalized the unmistakable tone of the Mellotron in numerous hits. Today, this piece of instrument history is enjoying a massive resurgence in a wide range of genres.

EZkeys Mellotoon captures the essence of this one-of-a-kind keyboard and comes with 15 individual instruments, carefully sampled directly from a model M400 Mellotron using a blend of direct and amped signals. On top of that, it includes a generous selection of custom effect and sound chain presets, giving you a completely new, creative outset to an already seemingly bottomless pool of awe-inspiring sounds.
EZkeys Mellotoon is available for purchase for 159 EUR.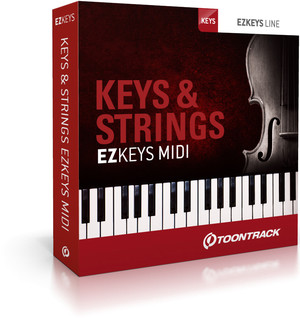 Toontrack has also released the new Keys & Strings EZkeys MIDI pack.
Keys & Strings EZkeys MIDI was created with the Mellotron, its rich palette of sounds and music history in mind. However, it works just as well in with any EZkeys sound library!

This is the perfect well of inspiration for anything from ambient pop to classic rock.
Keys & Strings EZkeys MIDI features
Material influenced by popular music of the late 1960s through today.
Separate keys and strings sections in each song.
Played by professional session pianist.
The MIDI pack is available for 25 EUR.
More information: Toontrack