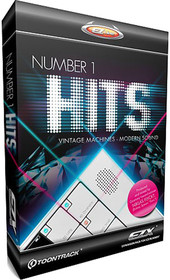 Toontrack has announced the release of the Number 1 Hits EZX, a new expansion for EZdrummer and Superior Drummer.
The mission was as simple as it was bold; create a fusion between organic, electronic, high-tech and vintage – a sound library that covers classic sounds but carry them into the new decade, a collection a drums that would sit right away in any contemporary pop, dance, house or hip hop mix.

We ended up with Number 1 Hits, which is not only an EZX expansion for EZdrummer, its a bonafide hit-machine in itself. When sound designer Niklas Flyckt played the finished product for us, even we were amazed at how organic, pumping and throbbing it sounded.
Number 1 Hits EZX features
Produced and mixed by Grammy® award-winner Niklas Flyckt (Britney Spears: "Toxic").
Instant drum production for contemporary pop, dance, house and hip hop music.
Vintage machines – Modern sound.
Sounds that offer endless combinations.
Includes MIDI with matching kit presets.
Instruments: Linn Drum Machine, Roland TR-909, Roland TR-808, Roland DR-55, Sound Master ST 305, some additional sounds from Niklas private library.
Gear: SSL 9000J Console, AD Converter: Digital Audio Denmark ADDA 2402, Chandler LTD2, RCA BA25, Culture Vulture Anniversary Model, 1176 Bluestripe, AKG BX15 Spring Reverb, Echoplate 3.
The Number 1 Hits EZX is available to purchase for 69 EUR / $79.99 USD.
More information: Toontrack / Number 1 Hits EZX