Toontrack has released updated for its Superior Drummer 2 and EZdrummer 2 virtual drum instruments for Windows and Mac.
Superior Drummer 2
Superior Drummer is the undisputed industry standard, award-winning and complete drum production studio that gives you, the user, full creative control to hone, mold and shape the drum sound of your wildest dreams.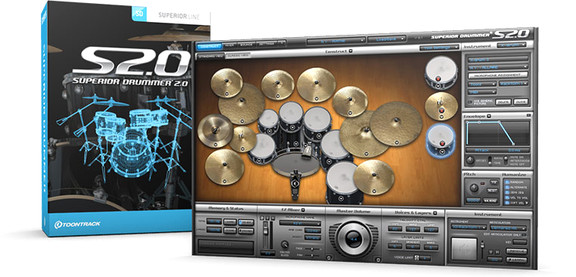 Changes in Superior Drummer v2.4.0
New:

Support for EZdrummer 2 core sound libraries and future EZXs.
Support for EZdrummer 2 percussion (available as X-drum from the 'Producer preset Sounds' submenu).
Support for EZdrummer 2 EZX presets.
New mapping tab highlighting of the articulation currently playing.
New Velocity Ctrl feature indicating incoming and outgoing velocity.
New Help menu header that describes version, build, bits and format of the plug-in.

Improved:

Busses can now have the same name as existing mic channels (names must still be unique within the same class).
During bounce each phase is described by the bounced files name rather than the corresponding mic name.
Special handling of right channel output names for Sonar X series and Ableton Live.
The X-drum mic assignment window can now be scrolled if required.
Improved X-mics assignment from and to the special 'Kit' mics found in The Classic EZX.
Additional auto-allocation of X-mics rules to minimize manual assignments.
Change in the built-in configs for Pop/Rock in line with newly released EZX.
Updated Yamaha E-drum preset in line with EZdrummer 2.

Fixed:

AAX version now ignores the Mono All setting (not relevant to ProTools).
AAX version on Windows should no longer crash if a new instance is created after you have loaded 2GB of sounds already.
Fix for faulty sends occuring after copying from a mono to stereo channel or after a send has been removed then reinstated.
Fix for issues when bouncing mute tails and swirls.
Progress bar during bounce should no longer disappears when the plug-in window is closed and reopened.
Help Menu link 'Content Providers' changed to 'Expand Superior Drummer' and points to Superior Line Products page.
EZdrummer 2
EZdrummer 2 takes drum production to a whole new level. It was designed to erase any technical barrier between you and your creativity and introduces several groundbreaking features for quick and easy songwriting.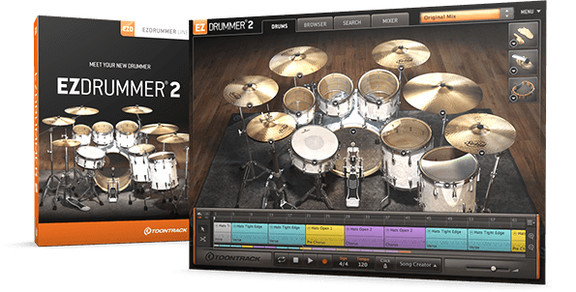 Changes in EZdrummer v2.01
Improved:

The leading instrument is analyzed with higher penalty for instruments with lower priority.
MIDI learn menus open in better places over sliders.
When using the amount control with the Latin Percussion EZX results should be more predictable.
Kicks from the Number 1 Hits EZX can now be loaded in the regular kick drum position.
Selecting with the lasso at the edges of the Song Track no longer leads to unwanted scrolling.
After tapping only 1 bar, only 1 bar is displayed in the tap2find area.
Suggestions can be aborted before the process has completed.
Edit Play Style changes are now applied upon quantizing.
After quantizing in Edit Play Style pads are no longer deselected.
New menu arrow button on the song part labels.

Fixed:

Crash fix for multi-out routing change when a sample rate other than 44.1K was used.
EZXs with no sounds in mics declared as Close no longer causes the engine to crash.
Source files with a block type that cannot be determined should no longer cause a crash.
Potential crash fix when trying to open database that doesnt exist.
Occassional crash when switching Sound Library.
Removing an instrument assigned as Powerhand no longer causes issues.
On certain systems preview for the percussion pieces was silent.
Velocity values 1 did not count as hits when using the amount control.
The engine didn't apply amount correctly if multiple instruments were selected.
Intensity in searches was not drawn correctly.
'Show in Browser' now works with user mount points even if a User Libraries header is present.
Slashes in file names should be treated more adequately.
Metronome preview in standalone mode didn't work.
Stand alone no longer asks for path every time if PlugPath exist but is invalid.
When creating a Toontrack account the dialog no longer states that the user should check their mail and verify the account as that is no longer needed.
The 'connection failed' message now properly appears if failing to login to web shop MIDI.
Other Online midi fixes.
Some Copy from browser bug fixes.
Some User MIDI folder fixes.
Memory leaks should no longer occur.
The updates are now available for registered Superior Drummer and EZdrummer customers.
More information: Toontrack