Cescato Musiktechnologie has released v2.30 b5 of Trans Computer Maschine, a free synthesizer plugin for Windows.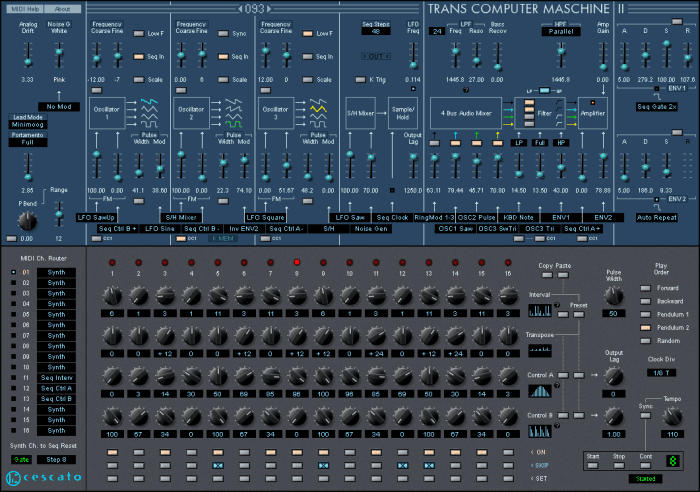 Trans Computer Maschine is a semi-modular Vintage Lead Synthesizer + Pattern Sequencer. Modeled after two legendary mono synths and a custom analog sequencer from Germany.
Changes in Trans Computer Maschine v2.30
Added double triggered 'Seq Gate' to Envelopes gate sources.
Added 'KBD Gate' to Envelopes auto-enabled when sequencer is not started.
Added 'LFO' activity indicator.
Added 'Lower' range extender to Oscillators frequency modulation sources.
Added Oscillators patch change 'KBD Memory' enabler/disabler.
Added Patch selection GUI controls.
Added selection displays for expanded 'Filter' modulation destinations.
Fixed at last un-synced 'LFO' frequency messed up after patch change.
Fixed Oscillators 'Low F' switches not working with 'Seq In' enabled.
Fixed Sequencer active 'LED' shift after it was stopped.
Fixed Sequencer reset shift in 'Pendulum' modes.
Fixed Sequencer 'Set' buttons shift when gating via Synth Channel.
Fixed Sequencer 'Sync' altering 'Tempo' setting after patch change.
Fixed/changed S/H Mixer behaviour for 'Expand' sources.
Improved (further) 'LFO' phase-alignment with sequencer stepping.
Improved modulation at audio rates.
Improved 'Noise Colour' modulation and added S/H signal source.
Improved Sequencer sync for varying tempo use.
Improved stepped response for 'Interval' and 'Transpose' Sequencer knobs.
Renamed some parameters and updated GUI.
Replaced Sequencer 'Transpose' values with selectable octave ranges.
Revised and optimized code.
The new public beta is available as a free download for Windows in exchange for a Facebook like.
More information: Cescato Musiktechnologie